Feline Intimacy 2017: Garfield and Arlene
Feline Intimacy 2017: Garfield and Arlene
Feline Intimacy 2017: Garfield and Arlene
by
TeeJay87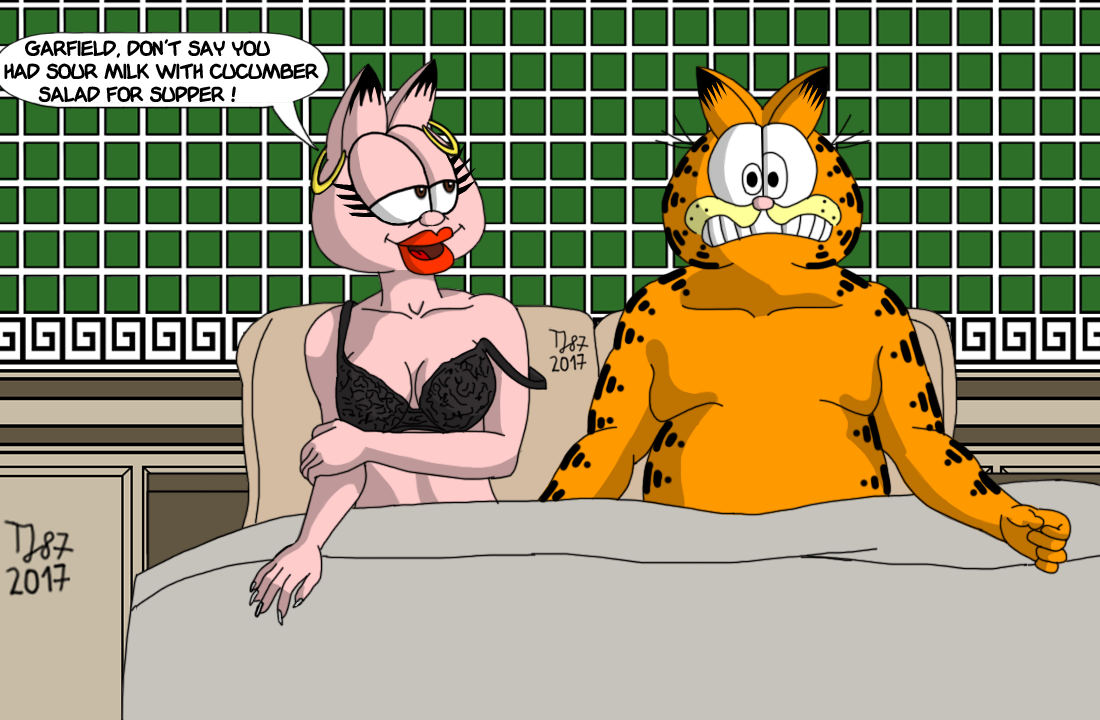 Description
Picture inspired mostly by Jim Davis's statement from March 2017 given to Washington Post
https://www.washingtonpost.com/news/comic-riffs/wp/2017/03/01/is-garfield-a-boy-how-a-cartoon-cat...
and
http://www.gocomics.com/news/in-the-news/3764/the-great-garfield-gender-debate-resolved-garfield-...
and my own need for drawing this couple - been used mostly for PAWS Inc. spouse/couples merchandise and recently it became canon.
Both comics and motion pictures portray Garfield as such selfish and egocentric, that he fell in love with himself; thus he's been betraying Arlene with difficult-to-count number of females:
- at least 5 different females in
"Garfield and Friends"
(Penelope, Mona, Miss Kitty, Gwen/Lola*, Lorelei and additional unnamed females);
- Mindy and Miss Kitty in
"The Garfield Show";


- plenty of comics from 1980s and 1990s also had shown Garfield treating females in rather liberal way;
- not to mention amount of novels and TV Specials written and completed with Jim Davis's approval, where other females appear.
Still, I believe Arlene matches the orange glutton most of all the candidates - spoiled brats (like Garfield) function best in the society under tough woman's supervision. Calling such couple "healthy" would be exaggeration, but heck - the Western world is experiencing wave of narcissism and fall of traditional values nowadays and Garfield is apparently the symbol of the downfall of traditional values. Those, who saw Donald Trump performing in Warsaw on 6th July 2017, will know what I mean.
Besides, such picture like posted above should make fine proof, that you can both support Garlene as canon couple and like secondary characters without their former relationships with Garfield. Had it been the opposite, I'd had never developed my OC Stan(isław) as Penny's and Mona's male (he can be seen here
http://www.fanart-central.net/pictures/user/TeeJay87/854141/Team-Pussycat-A-Hug-For-Two
for example).
Such a pity certain individuals in the cyberspace refuse to understand the last statement with efforts worth better cause.
The picture has been flagged mature content from obvious reasons.
Garfield and Arlene belong to PAWS Inc.
------------------------------------------------------------------------------------------------------
*Gwen (from
"The Idol of Id"
) and Lola (from 3 different episodes) differ only with colour of eyeshadow and approach to Bonzo, yet they're considered as different characters.
General Info
Comments
4
Media
Digital drawing or painting
Time Taken
Haven't checked
Reference