My Hero
My Hero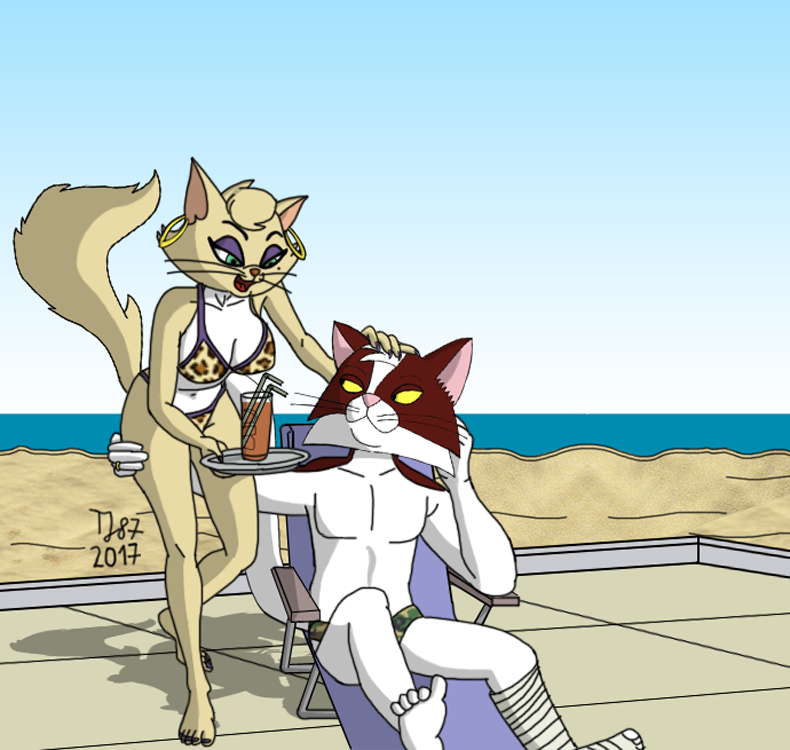 Description
Delilah has always wanted to see Scandinavia, thus Ian took her for a trip. While visiting Stockholm, they encountered "a group of friendly and peaceful Muslims", who had urgent need for spilling blood of "Polackistani* infidel" and abusing his similar-infidel wife from "the Great Satanistan**". Naturally our heroes would never submit to bunch of atheist-theists, thus both Delilah and Ian engaged in combat with kebab thugs, especially since the cats managed to smuggle 0.45 ACP Detonics pocket pistols for self defense.


The results were quite predictable - local fans of Jihad were outgunned, just until the last ones fell in combat, they managed to injure Ian in his left leg with scimitars and jambiyas***. Being aware that Stockholmistani Police is following Sharia Law, our heroes had to hide themselves in the US Embassy, where Ian got proper medical help after Delilah secured his wounds.
The cats returned back home incognito, during a riot caused by those few Swedish, who are not fond of their country suffering from excessive Stockholm Syndrome - the amount of chaos on Stockholm streets allowed them to sneak behind the corrupted Police officers and locals abusing Absolut vodka. Sweden may have nice architecture and landscapes, but its inhabitants are spoiling their own land.

-----------------------------------------------------------------------------------------------------------------
And above is the illustration for the story, developed from
http://www.fanart-central.net/pictures/user/TeeJay87/854665/Delilah-with-platter-WIP
  - with Ian having his left leg bandaged and Delilah passing him glass of iced whiskey. Two straws inside the glass are for both cats - Ian is such a gentleman, that he never drinks beverages without his wife, if he had never tasted those before. Our heroes are resting on a beach far from Western Europe, most probably in the States.
The title of the picture is reference to the story, since Ian stood on bad guys' path and successfully protected his love from those brigands, not caring about slashing wounds caused by Muslim melee weapons. With such care he receives from Delilah, Ian's wounds shall heal soon.
Delilah belongs to Warner Bros.
Ian Zaleski belongs to me.
------------------------------------------------------
*
Polackistan
- Muslim term for "Poland" ("
Bolanda"
in Arabic and "
Lechistan"
in Turkish)
**Muslims all over the world have been calling the United States of America
"The Great Satan"
or
"Great Satanistan"
since the presidency of George Bush. Partially due to their contempt towards the traditional Western culture, partially because the Muslims fear American weaponry that much (mostly aircraft and M1 Abrams tanks), that they view those fine products of American industry as "fiendish inventions".
*** A scimitar is Arab-Muslim sword with curved blade, and a jambiya is traditional Muslim dagger shaped in similar way to scimitar. Both blades have been Muslim warrior's standard issue since at least 622 AD.
General Info
Comments
2
Media
Digital drawing or painting
Time Taken
2 weeks
Reference