Shadow of the Haughty Rat
Shadow of the Haughty Rat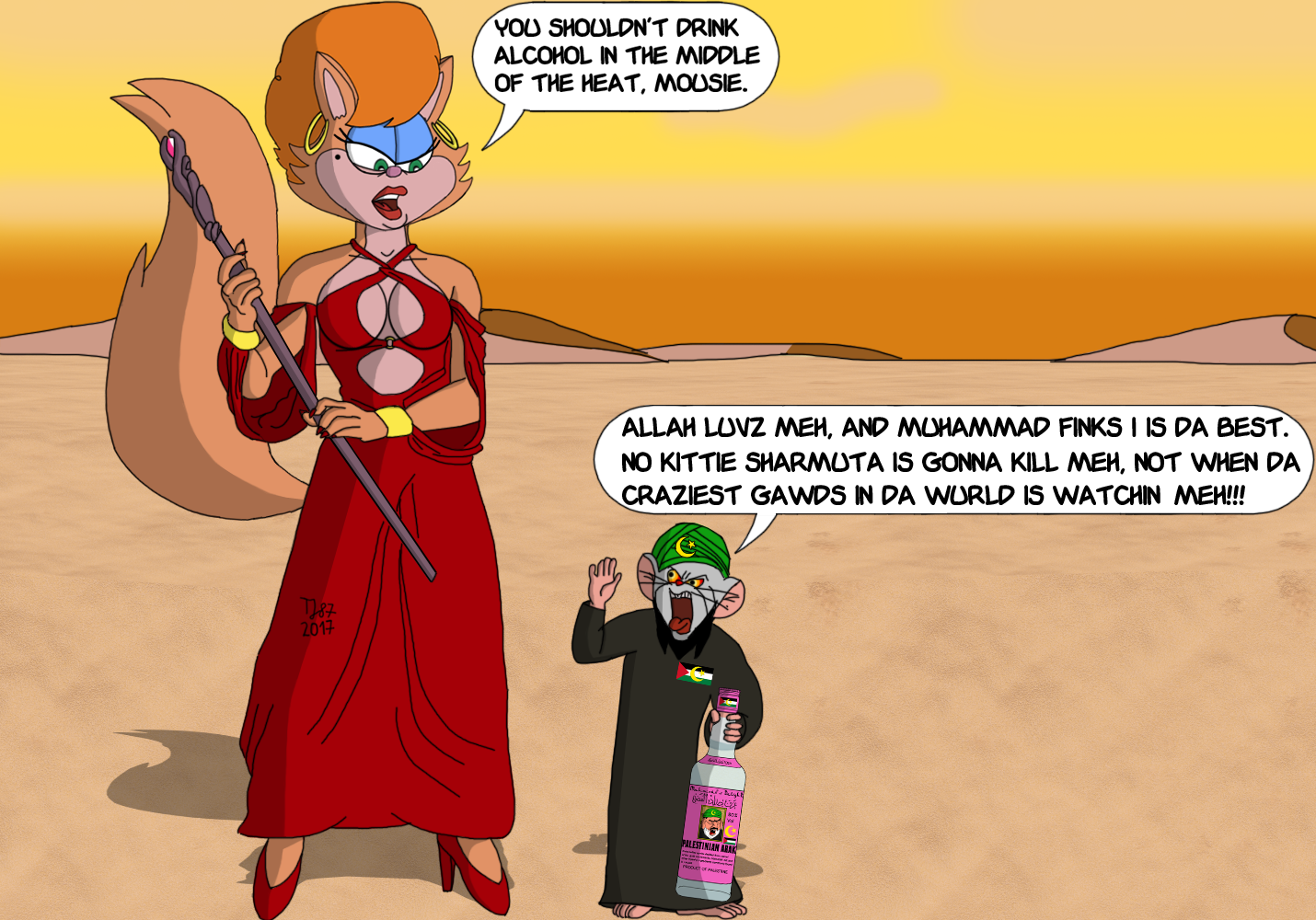 Description
Ladies and gentlemen, for the first time in my gallery - Miss Kitty
http://garfield.wikia.com/wiki/Miss_Kitty
from
"The Cactus Saga"
episode
http://garfield.wikia.com/wiki/The_Cactus_Saga
drawn as sorceress from Dungeons and Dragons: Forgotten Realms.
That mouse-mujahideen with Mahmoud's Delight bottle in his hands is supposed to be our heroine's guide through the desert - as you can see, his qualifications are far below minimum standards for the profession, no to mention his traditional way of responding to friendly advise from own customer. And he's intentionally speaking in botched English - to reflect poor teaching skills of the educational personnel in Allah's Ram.
Such fine sorceress like Kitty doesn't need help of a local vino to travel through the parched sea of sand, the latter was just added for the purpose of satire.
Especially since many "friendly and peaceful Muslims" all around the world behave in such way
; notable examples are "Remove Non-Garlene" from Garfield Wiki and Carlos Latuff.
Both Kitty and mouse-mujahideen were based on Todd Lockwood's paintings in
"Forgotten Realms Campaign Setting"
for 3.5rd Edition of Dungeons and Dragons. The title of this picture is a pun of 1995 video game from Warhammer Fantasy setting
https://en.wikipedia.org/wiki/Warhammer:_Shadow_of_the_Horned_Rat
. Despite the game wasn't the best, there is quite hilarious parody of it on YouTube
https://www.youtube.com/watch?v=azOvRwrqz2M
&
https://www.youtube.com/watch?v=i5-Tuo1bmFM
(two parts).
Miss Kitty belongs to PAWS Inc.
The Mouse-mujahideen belongs to me.
General Info
Comments
6
Media
Digital drawing or painting
Time Taken
1 week
Reference
See description