The Dread Caliph of Paliestine
The Dread Caliph of Paliestine
The Dread Caliph of Paliestine
by
TeeJay87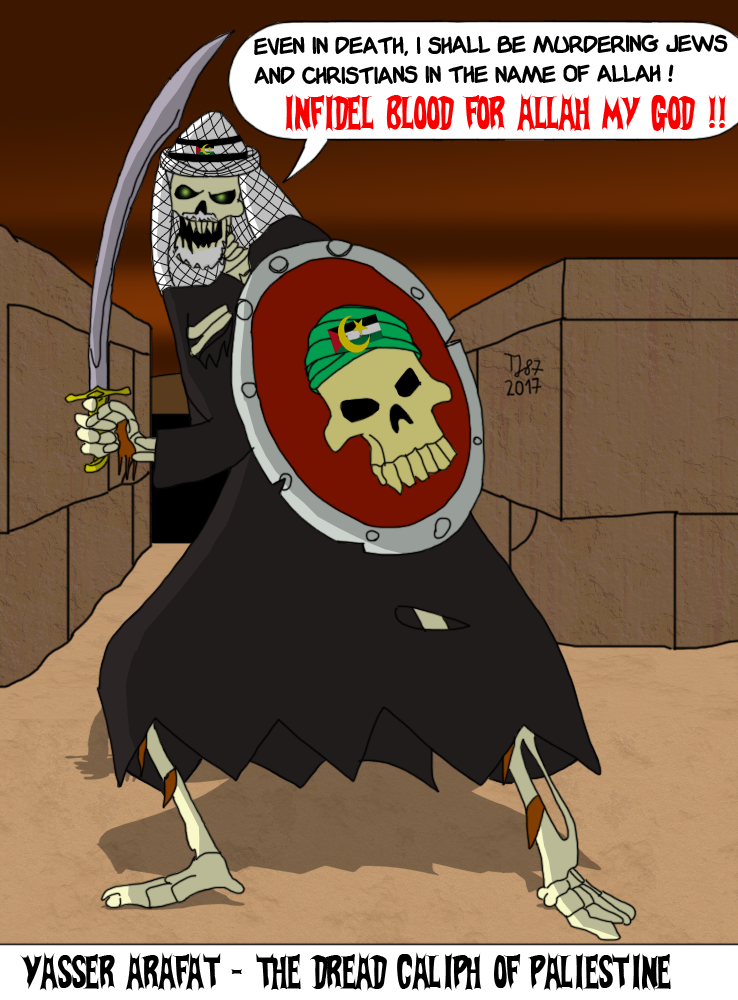 Description
After a couple of unpleasant experiences with Hamas supporters active on various websites, I've decided to draw their idol and war criminal Yasser Arafat
https://en.wikipedia.org/wiki/Yasser_Arafat
as undead mujahedin, who rose from his grave in one sole purpose - to spill the blood of innocent Jews and Christians living in Israel, but also the tourists.
If Islam is really the religion of peace, I can't understand why do Muslims all around the world openly admire in public this barbarian Arafat, who is responsible for creating Al-Fatah, Hamas and two bloody wars with Israel.
The idea was partially inspired by
Warhammer: Dark Omen
videogame
http://warhammerfantasy.wikia.com/wiki/Warhammer:_Dark_Omen
.

I would like to thank the following:
- Carlos Latuff,
- "Nutzak Senpai",
-"Quadraro",
-Abdullahi "BobClampettFan164" Bouraleh,
-Farhan Malek Azlan
and the rest of Hamas-supporting online bandits, who keep denying the Jews their right to have own country. Without those addle-coves, I would have never drawn their idol Arafat as an undead monster.




Flagged with mature content filter due to the quote our undead caliph is saying. Also in case, someone dislikes the look of walking skeleton with a dangerous weapon and evil glow in eye sockets.
Warhammer: Dark Omen belongs to Games Workshop.