Baldur's Gate Assassin Set
Baldur's Gate Assassin Set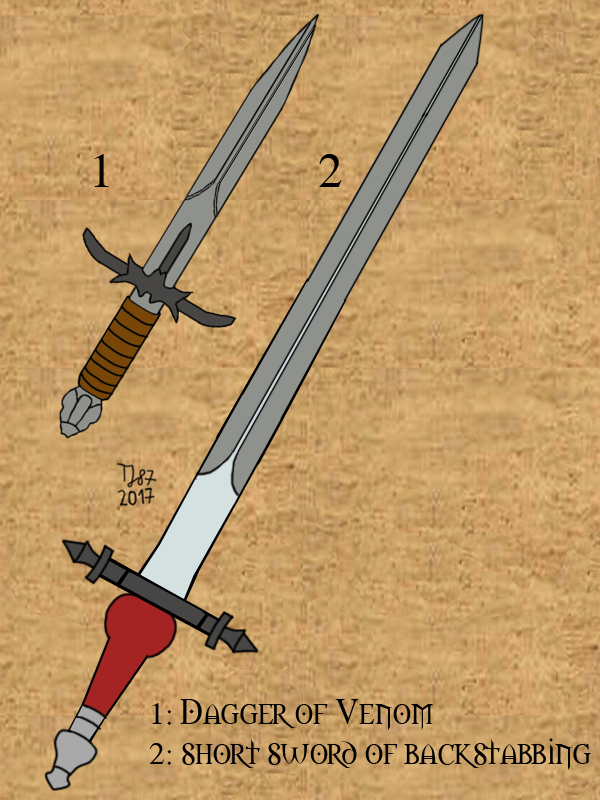 Description
Some time ago, I have made up an idea to draw weapons for characters in the pictures I post. Since 2012, I've managed to depict M16 rifle, M14 rifle, various versions of Kalashnikov rifles, some pistol/revolver models and couple of melee weapons, including broken bottles for my Russian OCs and scimitars for Muslim OCs. In 2014, I started drawing two weapons from
Baldur's Gate
series - due to lack of good quality reference pictures, I had trouble in finding colour schemes for them.
Originally those two blades depicted above were not planned for separate upload, but since people can post pictures with pistols
http://www.fanart-central.net/pictures/user/ShadowFalcon/748566/Carsons-Walther-P99
, melee weapons also should be okay.
While drawing the dagger and short sword, I was following references from Baldur's Gate Wiki:
-
http://baldursgate.wikia.com/wiki/Short_Sword_of_Backstabbing
for the short sword;
-
http://baldursgate.wikia.com/wiki/Dagger_of_Venom
for the dagger.
The picture was named after the most obvious method of handling those two blades in BG - since both have speed factor 0 (the lowest possible), don't weight much (3lbs and 2lbs respectively) and don't require much Strength to use, a combatant skilled in small swords (short swords and daggers in BG2) and dual-wield style might make good use from them. Especially since the dagger is magically imbued with lethal poison. In short: such combination is good for halfings, thieves and rangers until you get access to better blades in BG2.
Baldur's Gate series belongs to Black Isle studios.