Pussycat Colour Set
Pussycat Colour Set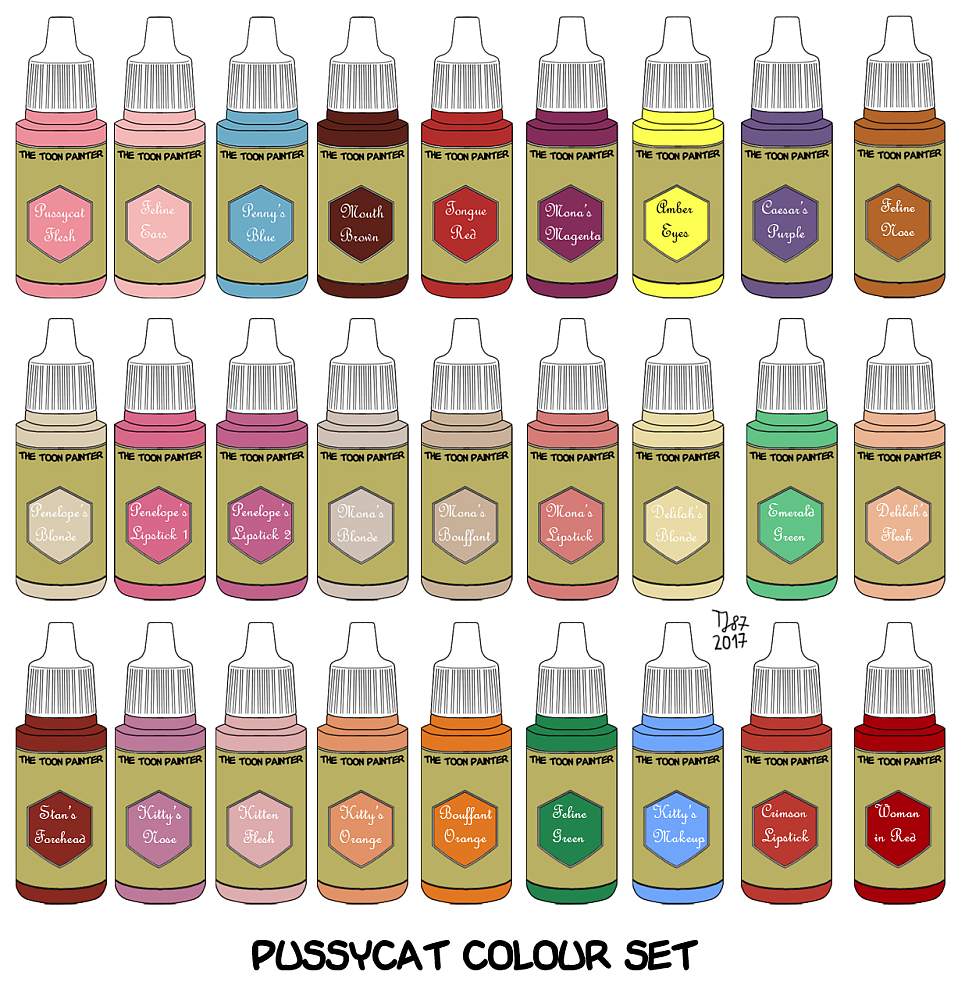 Description
As the title says - this assorted selection of colours is supposed to be a paint set for characters I draw regularly:
1) the first upper row is composed of basic colours for flesh, eyes and exposed body parts plus makeup and outfit (Mona's Magenta and Caesar's Purple - for Delilah's eyeshadow)
2) the second row contains colours unique for Penelope, Mona and Delilah, mostly fur and lipstick tones (plus Emerald Green for Delilah's eyes)
3) and the final upper row with tones for Stan's head blotch, Miss Kitty's staple colours (nose and lipstick will also match Gwendolyn and Lola) plus Kitty's dress colour named "Woman in Red".
I've found the inspiration for such concept after browsing paint catalogues:
-
https://shop.thearmypainter.com/products.php?ProductGroupId=19
products from this offer have indeed interesting names (just check those) ;
-
http://www.flamesofwar.com/hobby.aspx?art_id=4865
- at least not as striking as The Army Painter's offer, but couple of names are mistaking (e.g. "Sherman Drab" which is in fact Lusterless Olive Drab for US Army vehicles).
The names picked for the colours suggest the recommended use of those - while their names may not sound as catchy as from lists above, they should be appropriate enough.
General Info
Comments
6
Media
Digital drawing or painting
Time Taken
Haven't checked
Reference