Team Pussycat: Therapy for Loonies
Team Pussycat: Therapy for Loonies
Team Pussycat: Therapy for Loonies
by
TeeJay87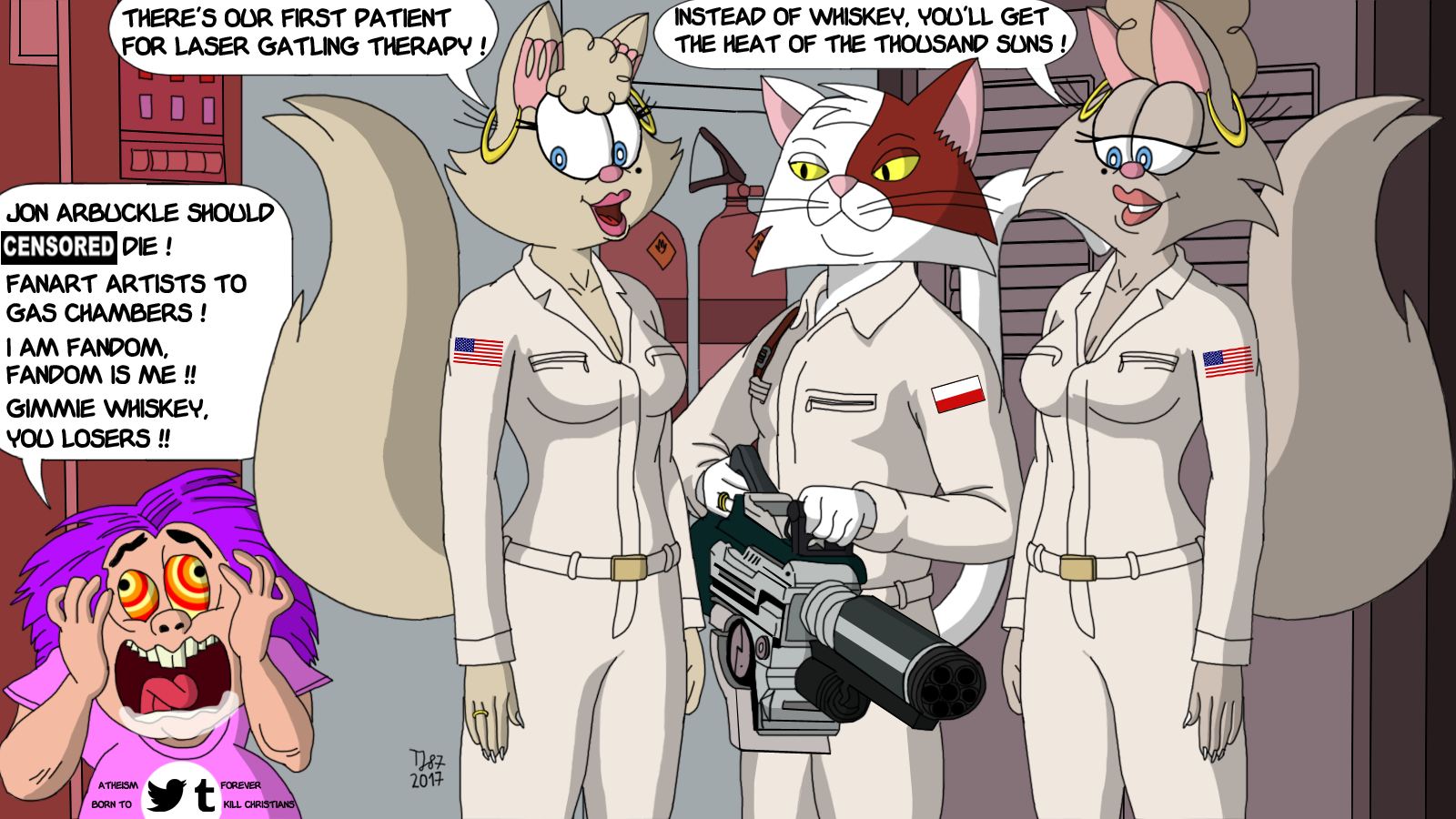 Description
Completed version of
http://www.fanart-central.net/pictures/user/TeeJay87/855385/Pussycats-in-Scientist-Outfits-WIP-2
with additional character behind Penelope - that coked troll doll is supposed to be one of those loonies, who continuously harass strangers on Twitter, Tumblr, deviantART, YouTube, Weasyl and similar online cesspools due to foolish reasons.
Those of you, who encountered such online parasites, should find this picture amusing. In case you needed evidence for such creatures existing, google "Jon Arbuckle is evil tumblr" and "Bad Garfield Art Twitter" - if you have functioning frontal lobe, you should get enough proofs to agree, that such addle-coves soon will be a serious threat to the society if they are allowed to breed without control. Those outspoken idiots call themselves "atheists" and openly reject moral rules, thus the heraldry on loonie's shirt.
"The heat of the thousand Suns" refers to
Warhammer 40K: Chaos Gate
, where Space Marines with plasma guns yell while aiming
"The heat of the thousand Suns shall destroy you !"
- to make this picture without mature content filter, I've gone for milder version of this quote.
The depicted coked troll doll/outspoken idiot/anti-theist atheist/loonie/however you call those creatures in English is not supposed to resemble anyone particular - its resemblance to living people is not intended.
Mona and Penelope Pussycat belong to PAWS Inc.
Stan(isław) Zaleski belongs to me
Coked Troll Doll/The Outspoken Idiot belongs to nobody.