Scooby Doo the K-9 Angel
Scooby Doo the K-9 Angel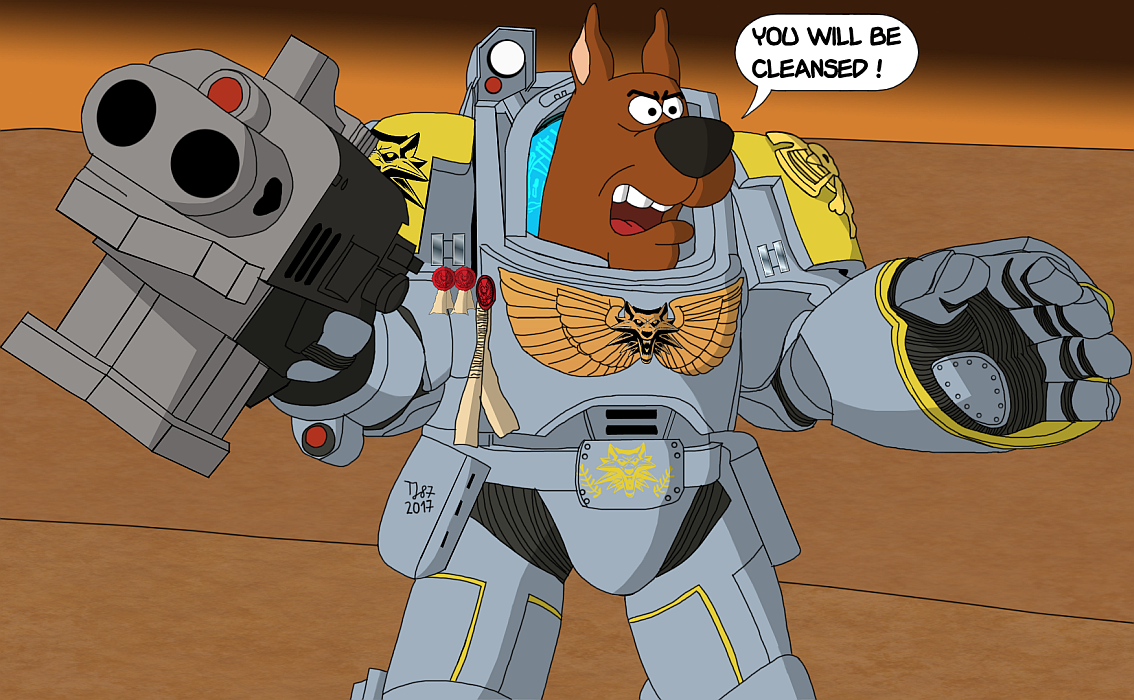 Description
The K-9 Angels chapter was formed in the same period as the Lions of Saint Marcus, as remedy against the spread of leftist chaos through the Milky Way. Having their personnel trained by the Space Wolves, K-9-ers adapted their armour schemes and heraldry with proper modifications.

Just like their Felid battle brethren, K-9 Angels mercilessly fight the traitors from Vodkamarines, Jihad Sultans and Word Breakers chaos legions, often together. Due to lower amount of experienced commanding officers, K-9ers normally operate under command of the highest Space Mouser in the frontline.
-----------------------------------------------------
Completed version of
http://www.fanart-central.net/pictures/user/TeeJay87/855477/Scooby-Marine-raw-sketch
, resized to match FAC standards. Our K-9 Angels captain is wearing the same pattern of Terminator armour like Space Mousers do
http://www.fanart-central.net/pictures/user/TeeJay87/850701/Space-Mouser-mild-version
and carries the same model of Storm Bolter.
The only differences are:
- power fist instead of sword
- lack of chapter pallium, since Scooby is a junior officer not entitled to wear such regalia.
Scoobert is portrayed intimidating thralls of leftist chaos on the surface of the Planet Kebabeera - most probably his unit is facing Space Mujahideen, though it will not be a surprise if
Spess Bolshocks
happen to perform own plots on the Jihadist world.
Scooby Doo belongs to Hanna-Barbera
Warhammer 40K and Space Marines belong to Games Workshop.
General Info
Comments
12
Media
Digital drawing or painting
Time Taken
Haven't checked
Reference
https://menziestank.deviantart.com/art/Hey-Kids-Le