Nightwear Pussycat 2017: From Sketch to Colors
Nightwear Pussycat 2017: From Sketch to Colors
Nightwear Pussycat 2017: From Sketch to Colors
by
TeeJay87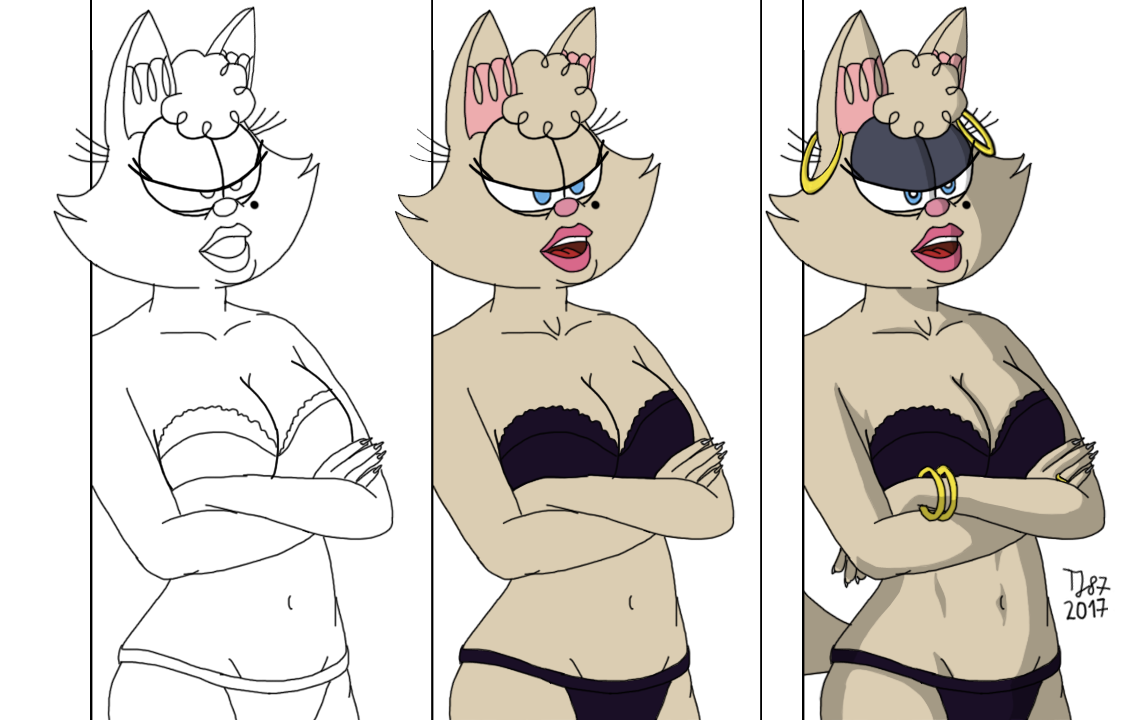 Description
Penelope from this sketch
http://www.fanart-central.net/pictures/user/TeeJay87/855535/Penny-and-Mona-in-Nightwear-raw-sketch
depicted gaining her final look gradually - after colouring in Photoshop, she received additional details and shading.
Penny's face was modeled after this screencap
http://garfield.wikia.com/wiki/File:GoHD017d.png
from
"The Guy of Her Dreams"
episode, her fur and flesh colours (pupils, nose and ears) have also been obtained from the picture. Instead bright pink lipstick she wears in the episode, I picked the tone from
"The Perils of Penelope"
episode
http://garfield.wikia.com/wiki/File:TPoP100.png
I find more matching.
Other design improvements include:
- cheeks and chin Penelope does not have in cartoon;
- spikier ears, giving her more feline look;
- eyelashes she did not retain in the following seasons (we're debating with other Garfield Wiki admins, whether it is an animation error or not, personally I believe it is);
- more detailed eyes with two-colour irises;
- reworked lips;
- and last but not least, humanoid body with female traits. In this case it was modeled after Lana Kane from
"Archer TV series".



I use this method to depict the remaining characters I draw - Mona from the sketch is developed the same way.
Penelope Pussycat belongs to PAWS Inc.
General Info
Comments
6
Media
Digital drawing or painting
Time Taken
Still in progress
Reference
N/A