Hyborian Adventures Penelope Pussycat (2010-2018)
Hyborian Adventures Penelope Pussycat (2010-2018)
Hyborian Adventures Penelope Pussycat (2010-2018)
by
TeeJay87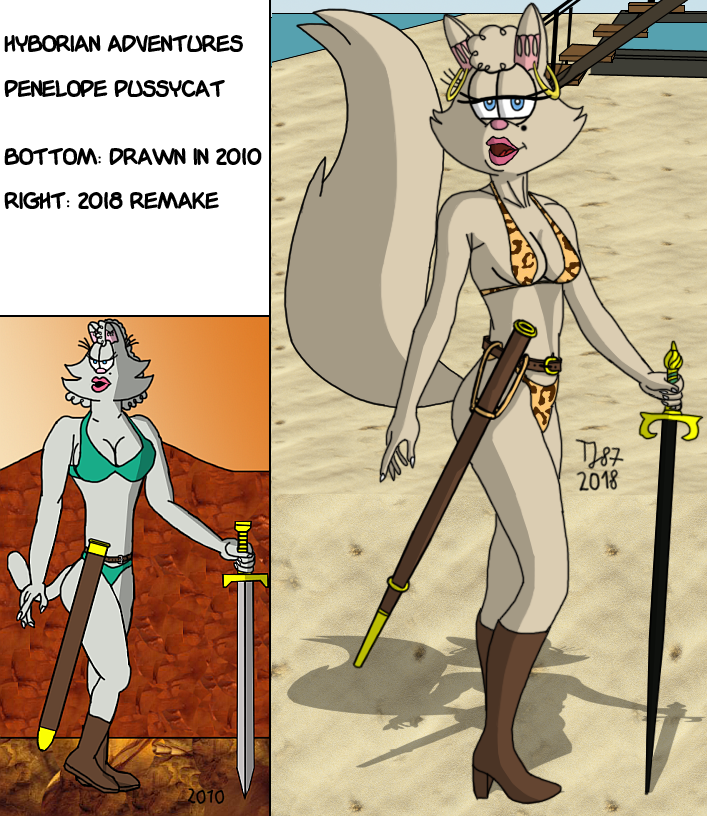 Description
Back in 2010, I've discovered the art of Boris Vallejo, which inspired me to draw my favorite characters as heroes from his paintings. Penelope wasn't an exception - she has been depicted after couple of those paintings and some of them got remakes.


The smaller picture on display comes from the times I was learning, how to draw poses - have to admit, it looks quite primitive, when compared to its remake in right. Blonde Penny has been modeled after the lady with obsidian sword in right here http://vallejo.ural.net/1993/003.jpg - changes include replacing original's skimpy outfit with beachwear fashion I'm more fond of and jewelry 2010 version is lacking.


At least Penny can go to Comics con (or gathering for fantasy fans) in California and she'll look better than most of the locals.




Penelope Pussycat belongs to PAWS Inc.
General Info
Comments
4
Media
Digital drawing or painting
Time Taken
8 years
Reference
http://vallejo.ural.net/1993/003.jpg