Pussycats at the Cali-Break Hotel
Pussycats at the Cali-Break Hotel
Pussycats at the Cali-Break Hotel
by
TeeJay87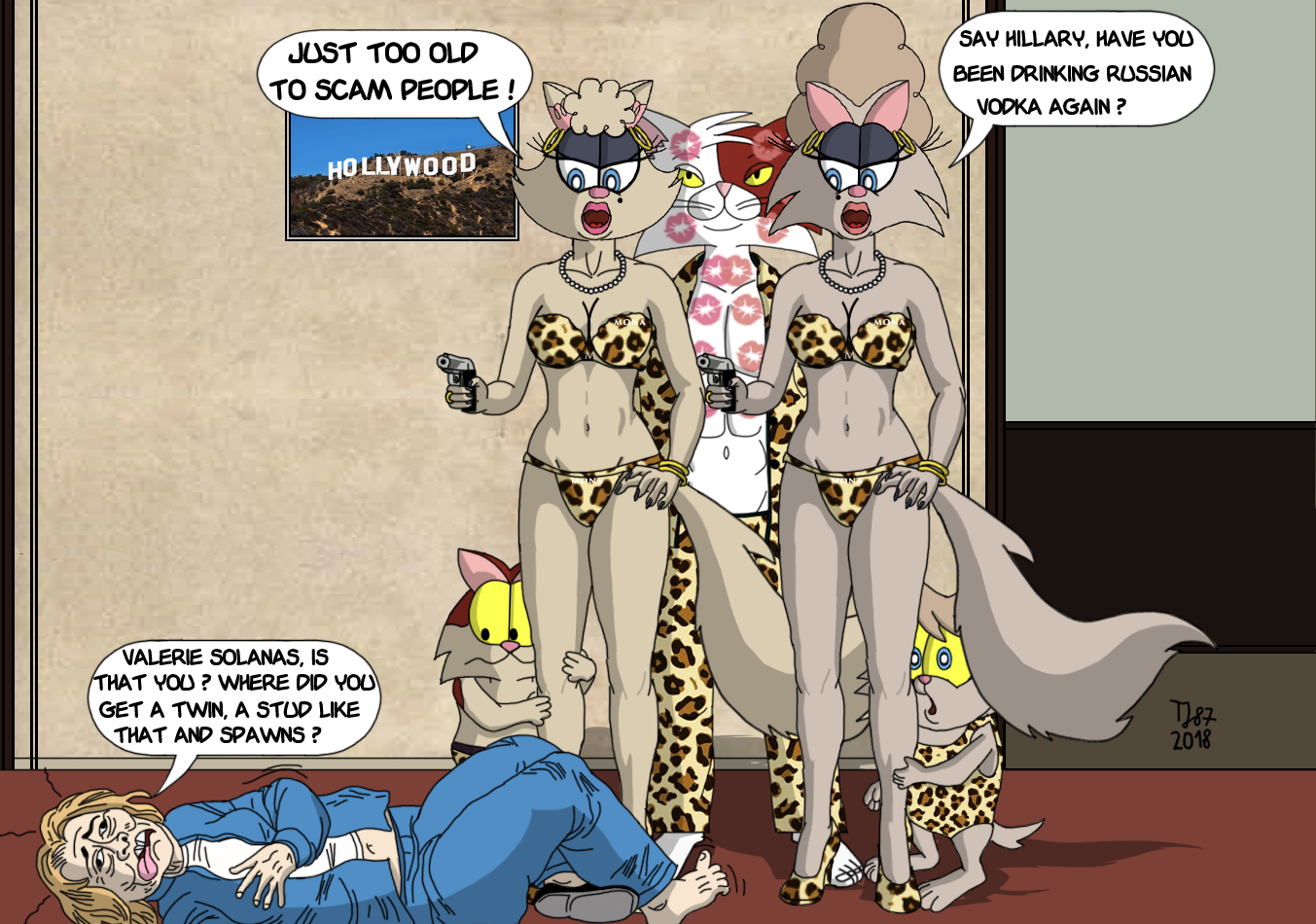 Description
Penelope and Mona wanted to show Stan and their kids how does California look and they stayed in one of those hotels you can find around Los Angeles, San Francisco, Oakland, Redwood City, San Diego, Hollywood and similar dens of leftism. Officially to admire nice landscapes of the California Bay, but also to demonstrate the spouse and kids, how does the local evil look like. Naturally the hotel had all the facilities a pampered customer might expect - after all, leftists enjoy luxury like anyone else.


Coincidentally (or perhaps not ?), Hillary Clinton wanted to perform a leftist rally at the same hotel where the Pussycats stayed for a night. As you might expect, leftist mob from the entire Californian Bay came to backup their false prophet and her irrational plot against the worldwide peace - I shall just say that the freaks behaved loudly and rather aggressive, especially for standards you would expect from pacifists. The mess caused by Clinton's followers disturbed our feline heroes - after all, nobody sane would enjoy interrupting peace of the chamber shared with beloved ones.

Penny and Mona remembered, that Hillary was turncoat Russian spy and that her thralls fear Russians so much, that it cannot be described in words. Once there was a leftist in New York, known as "Hipster Joe", who mistook Mona's bouffant for Russian ushanka hat, so the Pussycats thought about using their hairdos as an advantage against the Cali follies. They took with themselves Makarov handguns obtained during one of their missions in Russia and started yelling slurs in Polish their husband Stan taught them. Since Polish and Russian are both Slavic languages and average citizen of California refuses to distinguish Polish people from Russians, the masquerade went smoothly.
The entire incident winded up with show of strength, hopefully without the need of spilling blood. Penny and Mona only showed their Russian-crafted pistols while calling the leftists rude nouns and adjectives we use to insult people in my mother tongue. Crooked Hillary immediately fainted, thinking that Putin sent Valerie Solanas incarnates as agents to punish her for failures in the 2016 campaign,  while her cultists fled in panic, leaving the Hilarious Outlaw on the floor. Presence of "Kremlin's agents taking over Sunny Cali" completely frightened the so-called "bright-minded free-thinkers of the California Bay". 

"The Queen of the Democrats" was scolded by "Lyubov" (Penelope) and "Fanya" (Mona) for disapproving the current czar of Russia - as a "penalty", Hillary was forced to hand over to the "feline agents of Kremlin" money and precious items she had with herself - the Pussycats took 250 000 USD (two hundred fifty thousands American Dollars) in banknotes, jewelry and securities. "The Kitty Commissars" showed Hillary mercy and she was later taken to the nearby hospital, when the Pussycats put her half-conscious in a garbage bag.
The next day the cats left the hotel  undisturbed, since the locals did not want to fear the wrath of Kremlin like her false prophet experienced the previous night. At least the doubtfully-reasonable people from "the Cat-lady State" have something to fear.
--------------------------------------------------------------------------------------------------------------------------------------------


As the story above says - Hillary mistook one of the Pussycats for her idol Valerie Solanas
https://en.wikipedia.org/wiki/Valerie_Solanas
and is experiencing badly performed leftist rally she attempted to call. She hasn't been shot - the queens didn't have to use their Makarov handguns, even despite Clinton dared to disturb them quite pleasant activity (just look at Stan).
The picture was developed from
http://www.fanart-central.net/pictures/user/TeeJay87/855838/Disturbed-Pussycat-Twins-2018-WIP
&
http://www.fanart-central.net/pictures/user/TeeJay87/855849/Mary-Ann-Monas-Daughter-test
Mona and Penelope Pussycat belong to PAWS Inc.
Adam, Mary-Ann and Stanisław Zaleski belong to me.