Oriental Adventures Delilah & Ian (2 in 1 test)
Oriental Adventures Delilah & Ian (2 in 1 test)
Oriental Adventures Delilah & Ian (2 in 1 test)
by
TeeJay87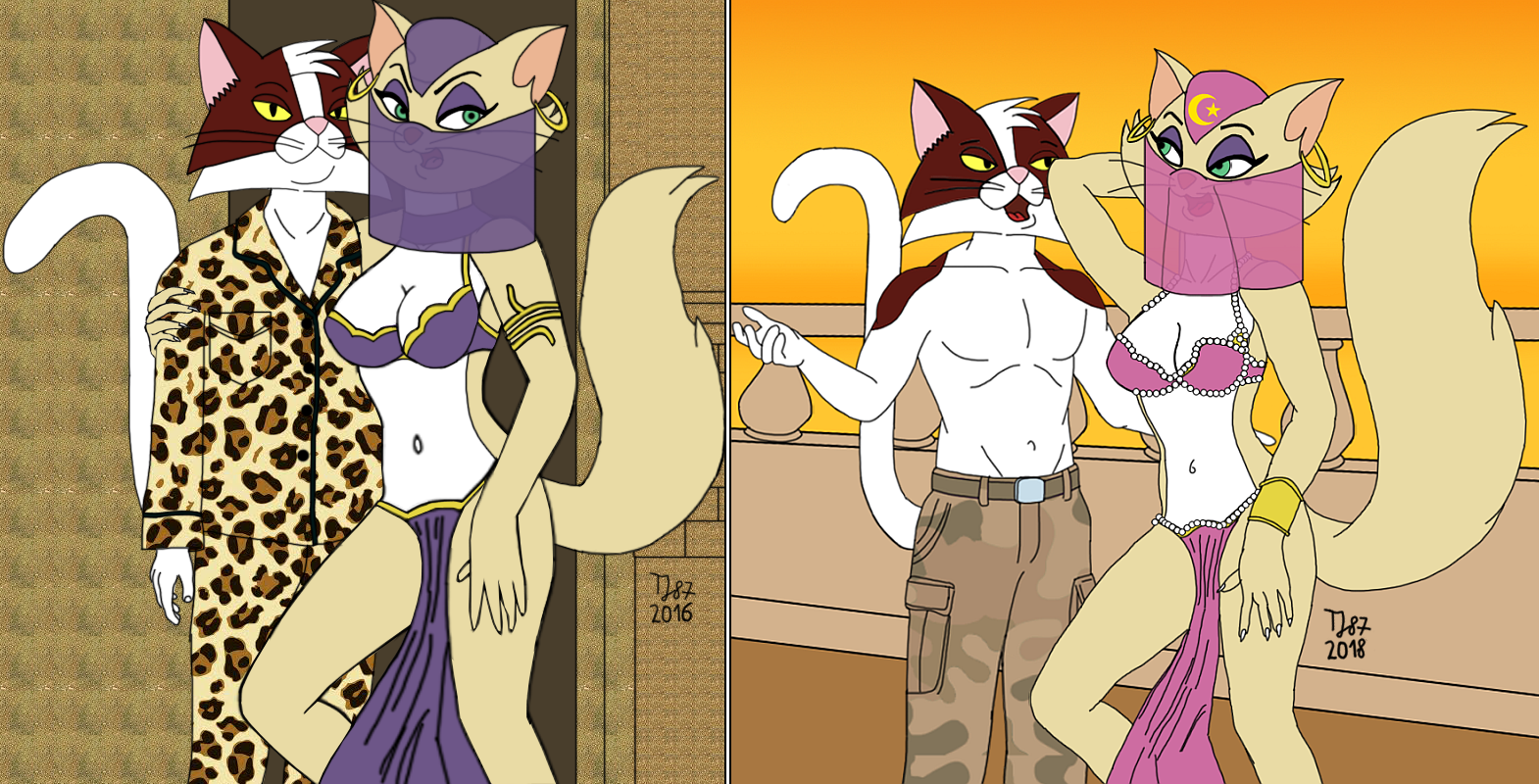 Description
Back in 2016, I had an idea of drawing humanoid Delilah with the headgear she wears in Season 2 - something like this
http://krypto.wikia.com/wiki/File:Solarspecs_(8).png
. Since this hat (said to be helmet, but doesn't look solid enough) covers her hairdo, it'd certainly match a Levantine outfit. Some time ago I found nice pulp art cover depicting a raid inside Bedouin tent, where local sheik was assaulted by "the Western infidels) while the slave girls supporting the attackers. Delilah's pose was modeled after one of the odalisques, while Ian had been drawn separately.
The picture in the left is never-completed 2016 version - apart from Ian's rather clumsy pose, the background might not look convincing enough as a Middle-Eastern area. Delilah has been dressed in purplish outfit, with fabric color picked from
"Feline Fatale"
screencaps.
More recent version in right should make a proof of improvement - Ian finally looks as he's supposed to, while Agent 9L got her harem outfit in pink tone obtained from the
"Solar Specs"
episode. You might also notice slight changes in cats' designs, including spikier ears and smoother outlines. Also the background in the 2018 version should look matching.
The picture has been completed http://www.fanart-central.net/pictures/user/TeeJay87/855959/Ians-Birthday-semi-transparent-version
Delilah belongs to Warner Bros.
Ian Zaleski belongs to me.