Tweety and Surface-to-Air-Mouthful
Tweety and Surface-to-Air-Mouthful
Tweety and Surface-to-Air-Mouthful
by
TeeJay87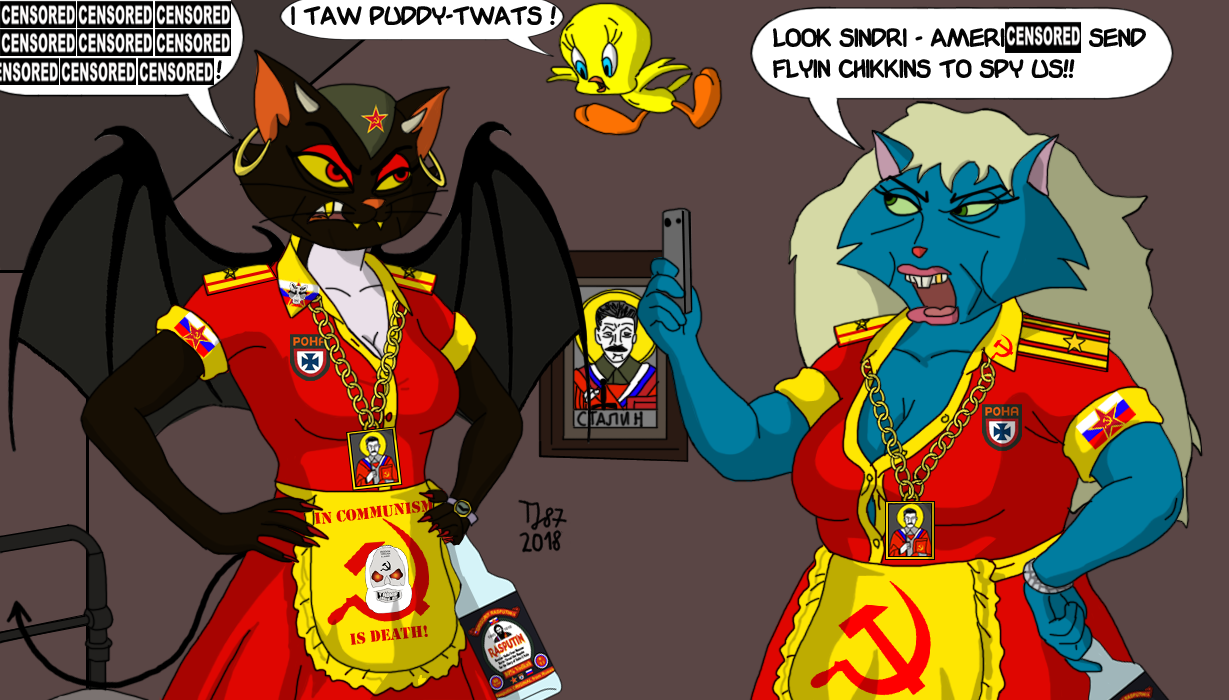 Description
Ladies and Gentlemen, for the first time in my gallery - Sindri
http://www.fanart-central.net/pictures/user/TeeJay87/853462/Sindri-Daughter-of-Behemoth
and Olga
http://www.fanart-central.net/pictures/user/TeeJay87/848827/Russkaya-Gawhubovaya-Olga-Salotchkinaya
put together in one picture and supplemented by Tweety from the Looney Tunes.
Both Muscovians wear Russian Army Major rank insignia, though Sindri has privileged position as a member of Fiendish Commissariat of Socialist Affairs and Infernal Advisory Command Musk-cow (notice her Marxist apron) ; Olga is simply a Battalion Commissar in KGB.
The amount of jokes here includes:
- Tweety's staple joke, modified a bit to match the characters;
- "Russian Maids", being twisted mirror of French Maids - as you can see, dressed in colors pleasant for leftist eyes only;
- traditional Russian communists' approach to state atheism - they call themselves "atheists" yet they worship Stalin as their deity;
- low culture typical for Moscovians - Olga doesn't distinguish canaries from young chickens while Sindri spews slurs like AK47 rifle in full auto mode;
- and the title itself is a parody of surface-to-air missiles (SAM) - you can tell that Tweety has flown directly into their flak.
Since the case of Sergei Skripal is commonly known worldwide and slurs have been censored in the picture, I do not see the need for using mature content filter here.
Tweety belongs to Warner Bros
Sindri and Olga belong to me.
General Info
Comments
12
Media
Digital drawing or painting
Time Taken
Haven't checked
Reference