Dolt-on-ism: Never Bet on Dolt
Dolt-on-ism: Never Bet on Dolt
Dolt-on-ism: Never Bet on Dolt
by
TeeJay87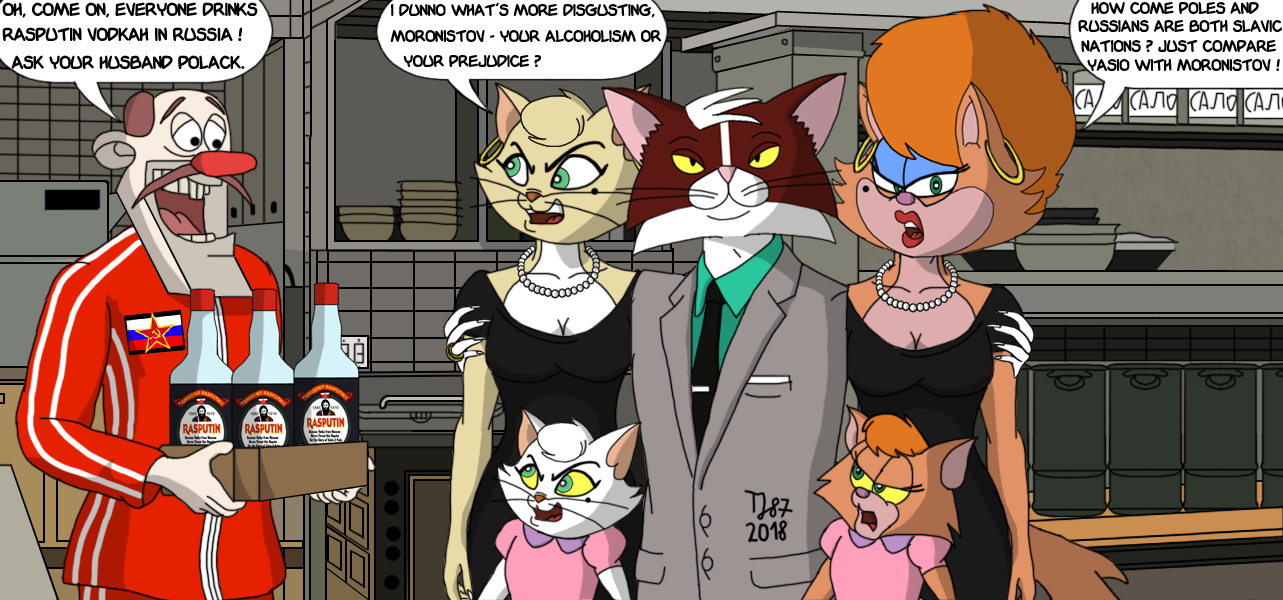 Description
Picture developed from
http://www.fanart-central.net/pictures/user/TeeJay87/856393/Dolty-Business-WIP
&
http://www.fanart-central.net/pictures/user/TeeJay87/856409/Ians-Daughters-WIP
, with the following story:
Ian took his "sultanas" (Delilah, Kitty, Diana and Chrissy, the relationships are explained here
http://www.fanart-central.net/pictures/user/TeeJay87/856409/Ians-Daughters-WIP
) to a newly opened restaurant in their neighborhood, only to discover, that it is run by Dolt-on-Istov. The rest was not surprising, least for a business run by a Russian communist from Musk-cow - interior furnished with typical socialist taste combined with menu limited to the so-called "gourmet of the proletariat"; in other words: lard, dumplings cooked from bad quality flour and Rasputin vodka as staple beverage, even for kids menu.
Nobody sane would enjoy a dinner or a supper there and our feline heroes should testify that easily.
Kitty has good point - indeed, we Poles and Russians are both Slavic nations, though only the latter are so crazy about it that they developed their own form of master race syndrome known as "pan-Slavism" (in short: Slavic people are the master race and non-Slavic people are sub-humans; Russians are master race of the master race); mostly for Czarist propaganda purposes.
150 years have passed and Russians still gladly hurl this ideology, even despite their Slavic DNA has been contaminated by non-Slavic blood from Asia (Tatars and native Siberian tribes), which only makes their claims ludicrous.
Not to mention the dress code differences: you can compare Doltie's typical tracksuit with Ian's tuxedo - while Russians dress in such outfits for any occasion (including weddings, exams, funerals and other formal celebrations), we, Poles, distinguish when a tuxedo is necessary and when you can dress in more casual way. Pretty much like the traditional Western values, despite those are dying in Europe westwards from the Oder River (thanks to leftists).
Last but not least - you have to admit, Doltie's new nickname suits him well (Moronistov <- Dolt-on-Istov), doesn't it ?
Delilah belongs to Warner Bros.
(Miss) Kitty belongs to PAWS Inc.
Ian, Diana, Christina and Dolt-on-Istov belong to me.