Smuglyanka Sindrovyanka
Smuglyanka Sindrovyanka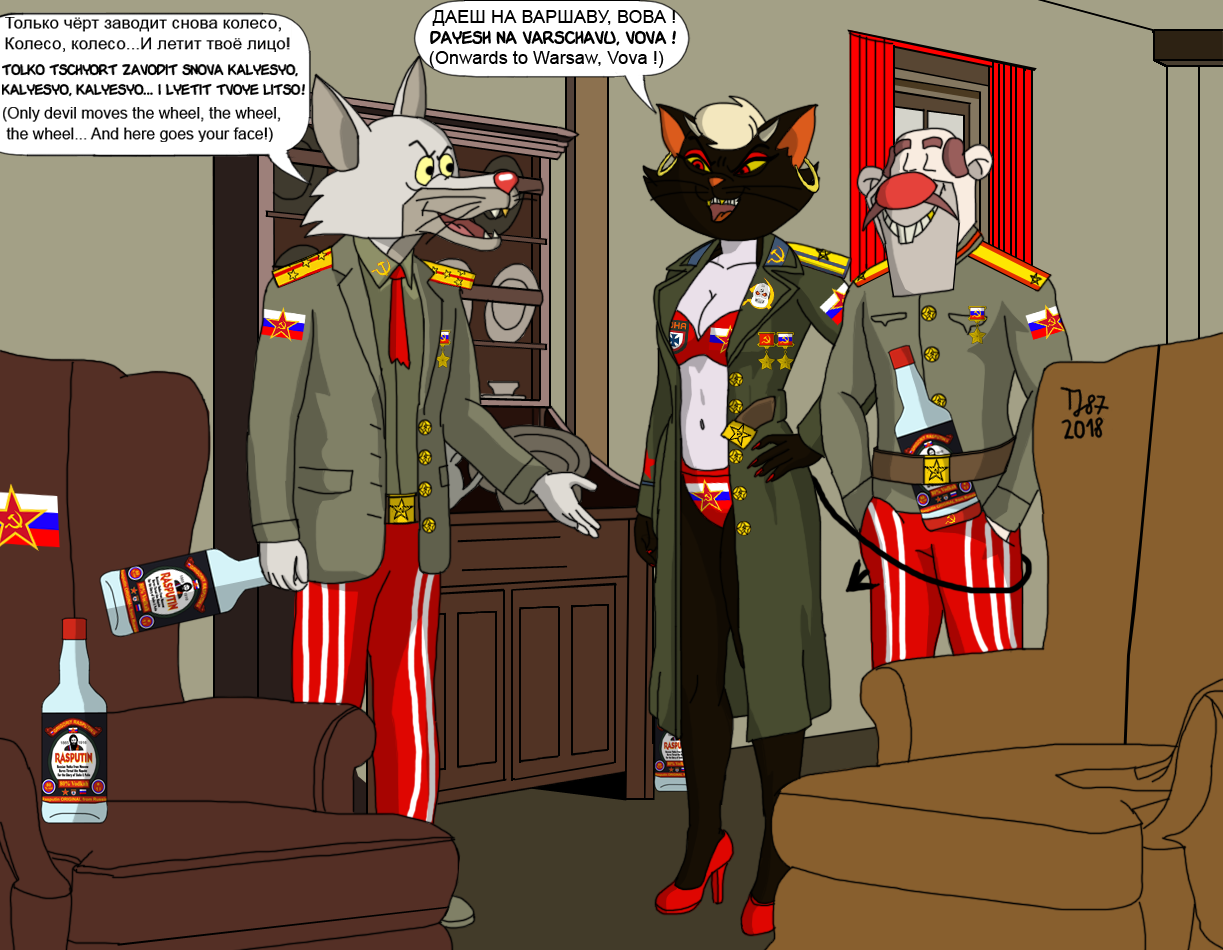 Description
As Russian Orthodox priests say, their homeland has been remaining under devil's rule since at least 1917. The holy men know what are they saying - there is a part of hell created especially for Russian communards and their Serbian and Bulgarian cousins, known as the Frozen Hell, where Bolshevik's souls receive proper reward for their atheism. The Frozen Hell is not just a place of eternal punishment - the native fiends serve in the Infernal Commissariat of Socialist Affairs and are often sent to the mortal world as advisors, teaching mortal fans of Stalin the most wicked and disgusting forms of atheism. Their mission is called "Socialist Advisory Command Moscow", SACM in short.


Certain
fiends have higher aspirations than just advising mortal drunkards from the Russian Communist Party - they simply take over the command on virtually any level. Sindri is one of those, who prefer to lead socialists personally instead of relying on not necessarily skilled taskmaster. Despite holding rank of Battalion Commissar (Major in NKVD/KGB/FSB forces), Behemoth's daughter has more mind and charisma than higher-ranked Bolsheviks she cooperates with under SACM plan. When combined with her demonic power, she does have more influence than mortal chekists can dream about.


Corruption of the Russian society helped Sindri much - she easily gathered around herself loyal thralls, mostly males charmed by her traits. Vladimir Paskudnikov and Dmitri Averellevych Dolt-on-Istov were the first, who pledged obedience to their commissar outta hell - Vova handed over his soul for sustained romantic relationship with his fiendish mistress, while Doltie traded his soul for the Bottle of Infinite Vodka and promotion to a commissioned officer rank.
In a normal army, E-5 Sergeant requires completing officer course followed by Warrant Officer service to gain subaltern rank, but the Russian Army has never been considered as "a normal army" - nor under Czarist regime, nor as the iron hand of Bolshevism and the mess remains till nowadays. The presence of SACM only deepens the chaos - it is commonly known fact, that Sindri had much to say about Doltie's quick promotion, even if there has already been at least one Russian NCO, who made rapid career in the Soviet Army. That individual is known as Mikhail Kalashnikov - ripping off Sturmgewehr 44 mechanism for Russian-styled mass production granted him a promotion from E-5 Sergeant to Major General.

------------------------------------------------------------------------------------------------------------------
Picture developed from
http://www.fanart-central.net/pictures/user/TeeJay87/856476/Sindris-Closeup-WIP
, with Vova and Doltie added.
The Russian wolf is trying to woo his commissar with the most popular Russian love song
https://id-films.net/v-chertovo-koleso-muslim-magomaev-%D1%87%D0%B5%D1%80%D1%82%D0%BE%D0%B2%D0%BE...
, not without impressing her. The funniest fact is that Vova mentions "the devil's wheel" (Ferris wheel) to a she-devil commanding him. Sindri is literally commanding Vova to attack Warsaw, though this particular idiom also means a form of encouragement in slang Russian - apparently the fiendish commissar also has certain needs requiring male presence. And Doltie is enjoying the gifts he received from his fiendish political commander, who is also showing Doltie's considerable form of attention (
In Soviet and modern Russia, a cat strokes you!
) .
All the depicted members of the Russian communist party are dressed in Russian army fatigues, following regulations in typical Russian way (without diligence) :
- Vova wears officer jacket with (torn) tie and shirt introduced in early 1990s (before Yanayev's putsch) to tracksuit pants;
- Sindri's outfit is limited to KGB/FSB officer coat with proper insignia worn on her regular bikini (she hid her Stalinist amulet in a pocket);
- Doltie elected to wear M1970 officer jacket to similar tracksuit pants Vova carries on.
Our Bolshocks carry standard M1943 officer belts, composed of brass buckle with stamped Soviet star on a substitute leather, sturdy enough to carry the fuel of the proletariat behind it.
The depicted Muscovian prole-THRALL-ians and their "comrade majesty outta hell" belong to me.