Arlene and the Misty Fortress
Arlene and the Misty Fortress
Arlene and the Misty Fortress
by
TeeJay87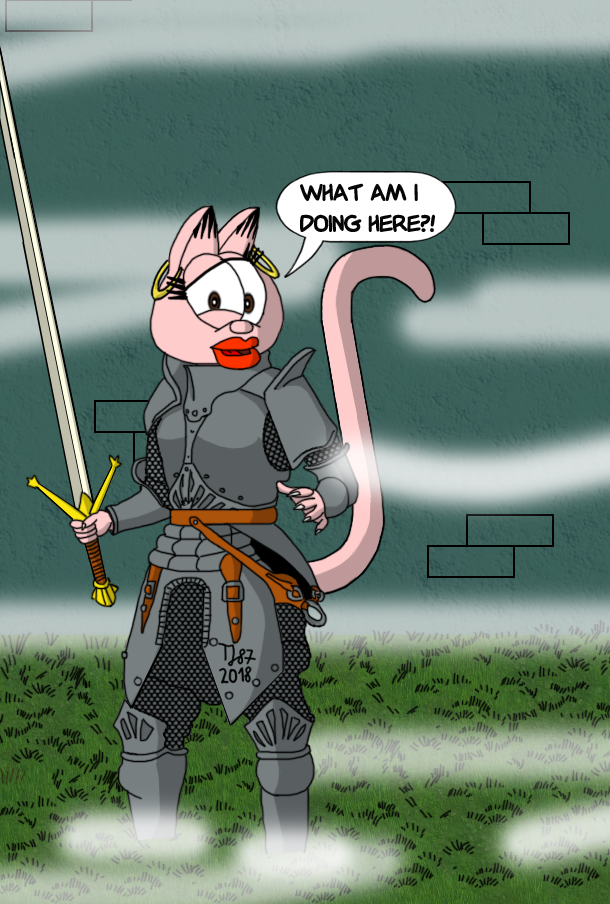 Description
Completed version of
http://www.fanart-central.net/pictures/user/TeeJay87/856736/Ravenloft-styled-Arlene-raw-sketch
, inspired by couple of Dungeons and Dragons books (novels and adventure modules).
Even despite Arlene remains my least favourite of Garfield's females, I still recognize her as official PAWS Inc. character. Certain freaks from dA (I call them "Garlene cultists" due to their fanatism) hate Penny and other females from the franchise with such passion they seem ready to occupy PAWS Inc. as mean of forcing Jim Davis to renounce any female except Arlene (guess Liz Wilson is also on their hit list). Hopefully they do not cooperate with each other, which means that they are basically outspoken loonies, who need new life.
On the other hand, I will not deny that Arlene is simply difficult to be liked, both physically (those huge lips with buck teeth) and in terms of her attitude (tomboy with sharp tongue). Still, I believe that Penny, Mona, Kitty, Gwen and Lola deserve better males than such self-centered fatso like Garfield, and Arlene is matching him best. Thus she has been depicted in a way I find matching - in plate mail armour and wielding Claymore two-handed sword.
After all, I shall not lower to the level of Garlene cultists - just because I prefer Penelope, Mona, Kitty, Gwen and Lola, it does not mean I cannot draw Arlene as best as I am able to depict her. Let people learn, how to distinguish pure Garfield fans (like me, Josh and Tim) from the black sheep of the Garfield fandom (Garlene cultists).
Arlene belongs to PAWS Inc.
General Info
Comments
7
Media
Digital drawing or painting
Time Taken
Haven't checked
Reference