Custom Flames of War Card
Custom Flames of War Card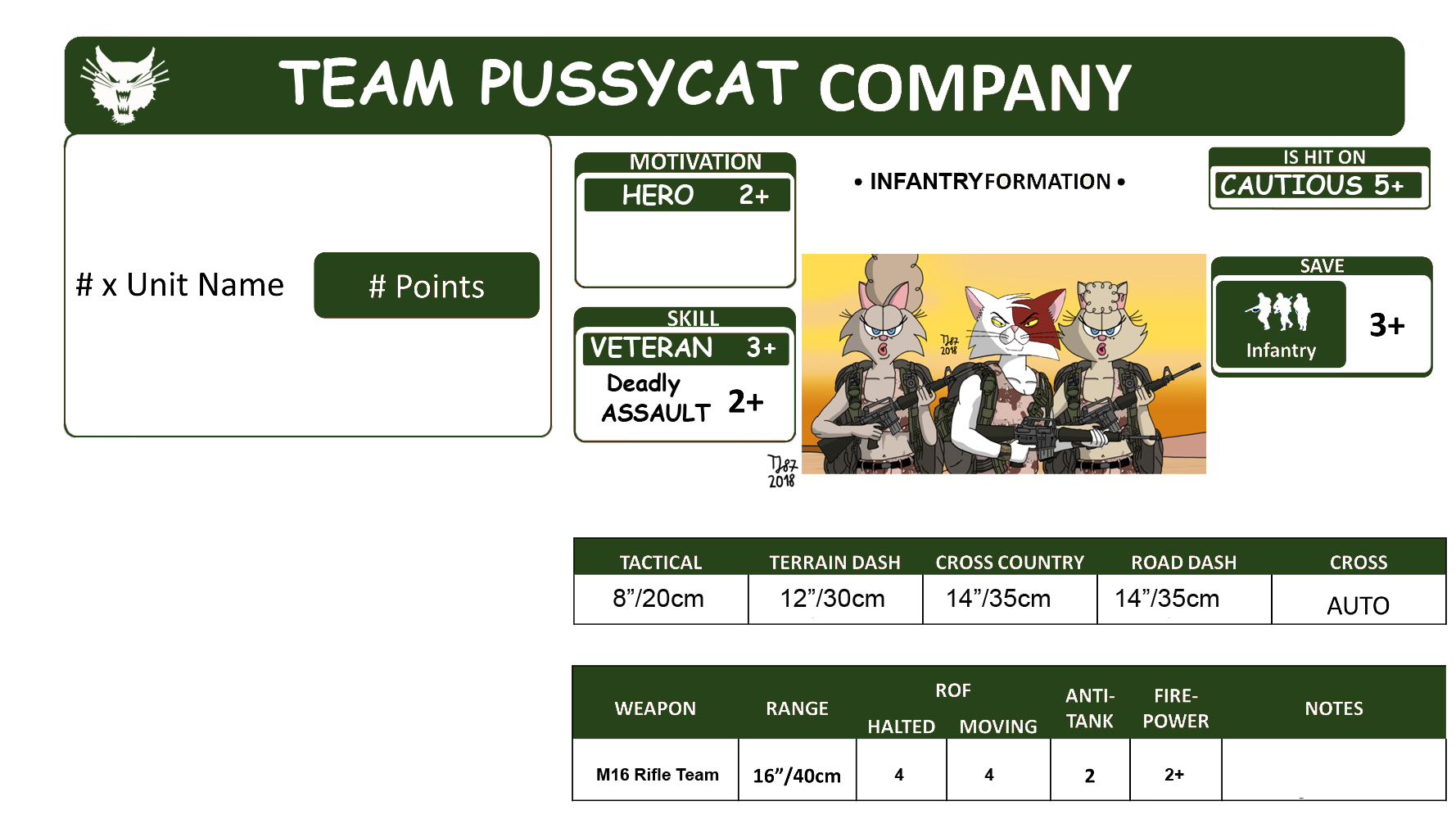 Description
A couple of months ago, I
accidentally
found that people on 4Chan made their own custom Flames of War (FoW) unit cards
http://i.4pcdn.org/tg/1488032870114.png
- judging after the parameters, this unit card has been created on the purpouse to mock Phil Yates, one of the game designers.
While indeed the 4th Edition has a number of mistakes, mostly the lack of M24 Chaffee light tanks, M18 Hellcat tank destroyers, StuH42 self-propelled guns, and JS-3 heavy tanks in the current rulebook, I believe that the Kak cultists have gone too far in mudslinging Battlefront Miniatures.
The only good thing is that the Kakistani provided a picture, which makes a fine base for custom FoW cards. Above you can see my own one, derived from the original. The parameter explanation is below:
1) Motivation Hero 2+ means that the Team Pussycat passes morale tests on rolling 2,3,4,5 or 6 on a standard 6-wall die (d6);
2) Skill Veteran 3+ indicates they succeed in attack rolls on rolling 3,4,5 or 6 on d6. Except assaulting - they only fail on rolling 1;
3) Is Hit on Cautious 5+ means that your opponent must roll 5 or 6 on d6 when attacking Team Pussycat in the open ground within the 16 inches/40 cm range. Further range and terrain obstacles give cumulative penalties to hit them;
4) Save Infantry 3+ indicates that the Team Pussycat player has to roll 3,4,5 or 6 on d6 to avoid killing the team;
5) Tactical, Terrain Dash, Cross Country, and Road Dash = how far can you move Team Pussycat during your turn;
6) Cross AUTO = Team Pussycat crosses terrain obstacles automatically (without the need to roll for crossing)
7) Weapon bar = indicates the firing range, rate of fire (ROF = the amount of dice you roll when firing), anti-tank value and the firepower (on a roll 2,3,4,5 or 6 Team Pussycat destroys their enemy).
Flames of War belongs to Battlefront Miniatures
Mona and Penelope Pussycat belong to PAWS Inc.
Stan(isław) Zaleski belongs to me.