Team Pussycat and the National Commissariat of Party Pooping Affairs
Team Pussycat and the National Commissariat of Party Pooping Affairs
Team Pussycat and the National Commissariat of Party Pooping Affairs
by
TeeJay87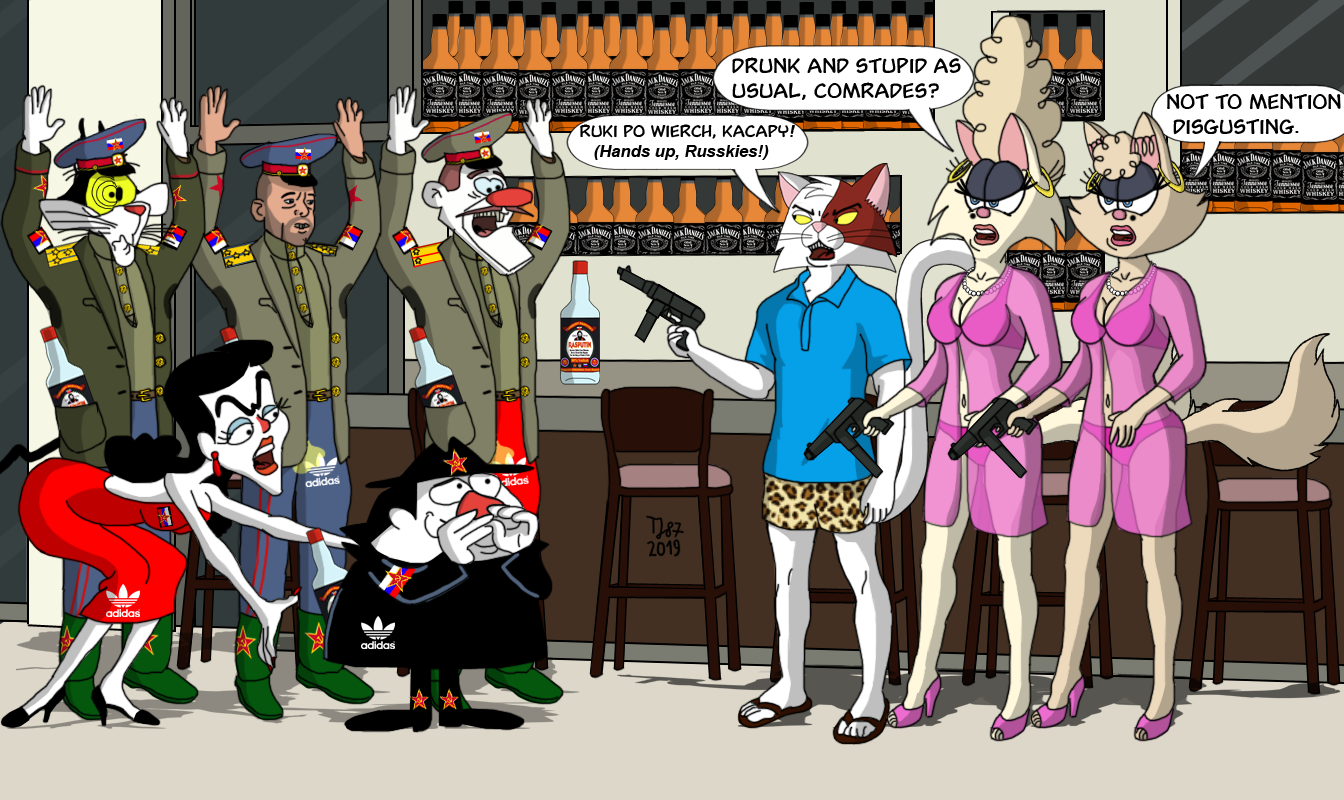 Description
A developed version of
http://www.fanart-central.net/pictures/user/TeeJay87/858561/Pool-Fashion-Pussycats-WIP-with-refer...
, which explains why are the Team Pussycat members wielding Tec-9 submachine guns.
The depicted members of the Comintern include:
- Boris Badenov;
- Natasha Fatale (trying to pickpocket Rasputin Vodka from her partner);
- Dolt-on-Istov in M1943 officer uniform;
- Boris from
Archer TV Series
- promoted into the Senior Politruk rank (captain in NKVD/KGB corps);
- Meowrice Beaucoup, who followed the example of Gerard Depardieu and forsook his French roots for Russia.
The Chekists are easily distinguished by their blue officer caps and matching trousers; being a Regimental Commissar (NKVD/KGB colonel), Meowrice is also wearing a senior officer jacket with characteristic insignia.
The amount of Jack Daniels whiskey was depicted on purpose - Team Pussycat used the alcohol to lure the communards into the trap and the trick went quite well since they caught two spies and two KGB officers.
Mona and Penelope Pussycat belong to PAWS Inc.
Boris Badenov and Natasha Fatale belong to Dreamworks
Boris (Jackov's assistant) belongs to Adam Reed
Meowrice Beaucop belongs to Warner Bros.
Dolt-on-Istov and Stanisław Zaleski belong to me.