Penelope Pussycat at the Pool
Penelope Pussycat at the Pool
Penelope Pussycat at the Pool
by
TeeJay87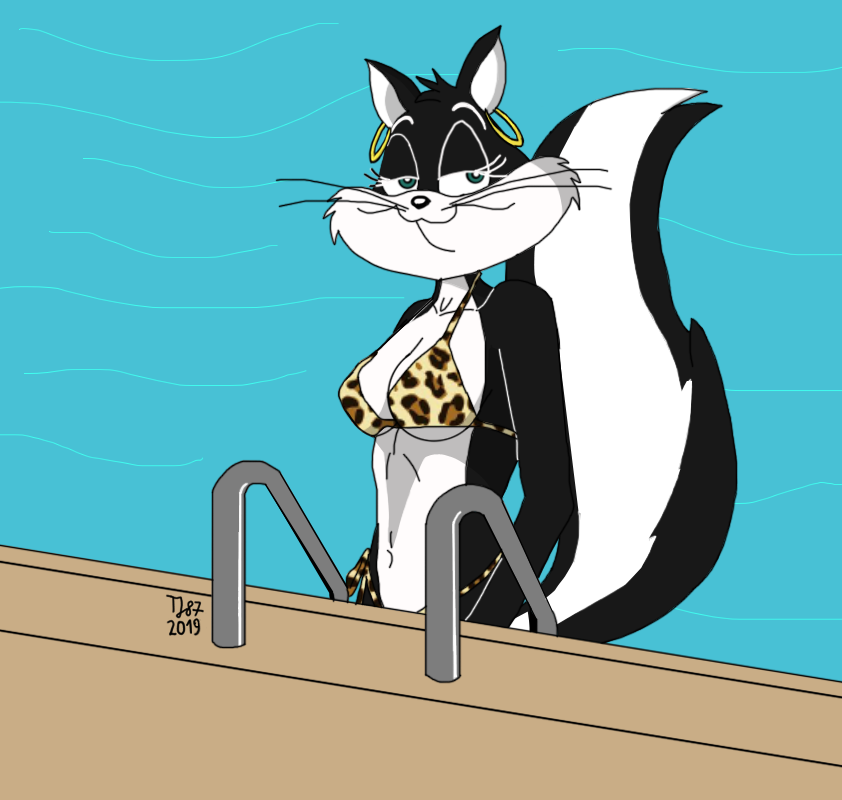 Description
Out of all Looney Tunes/Merrie Melodies cartoons, the shorts starring Pepe le Pew and Penelope Pussycat were usually always my favourites. Apart from being a cat person, I always found the confused Pepe and his struggle to win the female cat's affection quite amusing.
Despite being of the opinion that Paws Incorporated's "Penelope Pussycat" is better, I still do enjoy the Looney Tunes' one. I originally tried to draw her back in 2007 and 2008, though the drawings were of such poor quality, that I ultimately decided to scrap them. Due to her colour scheme, "The Black Penelope" is rather difficult to draw and colour, as making mistakes during design come quite easily.  
Some time ago, I discovered the trick to drawing Penelope and other black cats in Adobe Photoshop (or any similar program): the key is to draw her outlines in red as a single layer, colour her person blue in another layer, add a third layer where her belly, cheeks, inner ears and tail stripes are yellow, before ultimately swapping the outlines and basic fur colour to black, swapping the yellow for white and adding white lines where any black body parts are visible.    
And I present the result of my technique - modeled after a "Grand Theft Auto III" promo:
https://gta.fandom.com/wiki/File:2921_gtavc_girl.jpg
, with personal details. I did replace Penny's original iris colour from pure black to green as I do believe eye colours are visually more appealing.    
Penelope Pussycat belongs to Warner Bros.