Girls und Panzer: Cheeki Breeki Edition
Girls und Panzer: Cheeki Breeki Edition
Girls und Panzer: Cheeki Breeki Edition
by
TeeJay87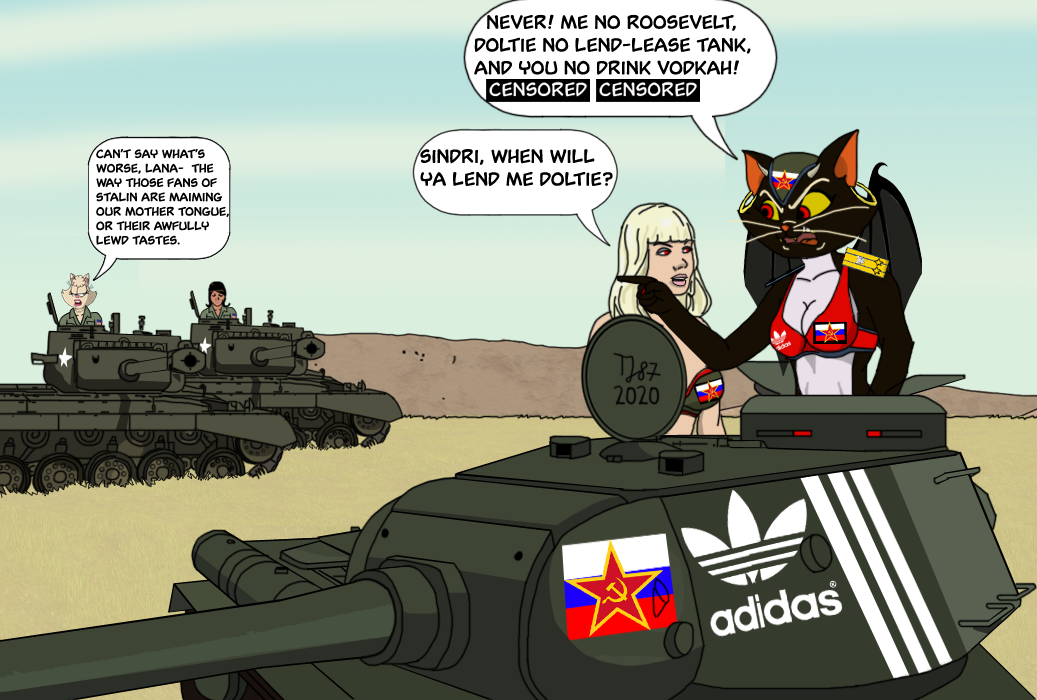 Description
Having drawn Garfield and Friends characters in German tanks, I thought about giving a try with Soviet and American tanks with proper crew members.


Here we can see Katya Kazanova (from Archer TV Series) asking my OC Sindri Bisitsokoshka, when will Sindri lend Katya Dolt-on-Istov (another of my OCs and Sindri's thrall). The feline succubus from Moss-Cow replies in the typical fiendish way, that under no circumstances shall she share her favourite thrall with anyone, because:
- Sindri is not Franklin Delano Roosevelt (the American president, who supplied the Soviet Union with weapons and sold my homeland to Stalin in Yalta)
- Doltie is not a Lend-Lease tank to be borrowed (he's a drunkard in Moss-Cow)
- and that Katya does not drink vodka, despite being herself an ethnic Russian (come on, it IS suspicious).


And Penelope Pussycat is providing a proper commentary to Lana Kane (also from Archer) while they set an ambush for the lewd she-Bolsheviks.


Penelope Pussycat belongs to PAWS Inc.
Lana Kane and Katya Kazanova belong to FX Studios
Sindri Bisitsokoshka and Dolt-on-Istov belong to me.
General Info
Comments
7
Media
Digital drawing or painting
Time Taken
2 months
Reference