Sharmuta Bahiana (unveiled version)
Sharmuta Bahiana (unveiled version)
Sharmuta Bahiana (unveiled version)
by
TeeJay87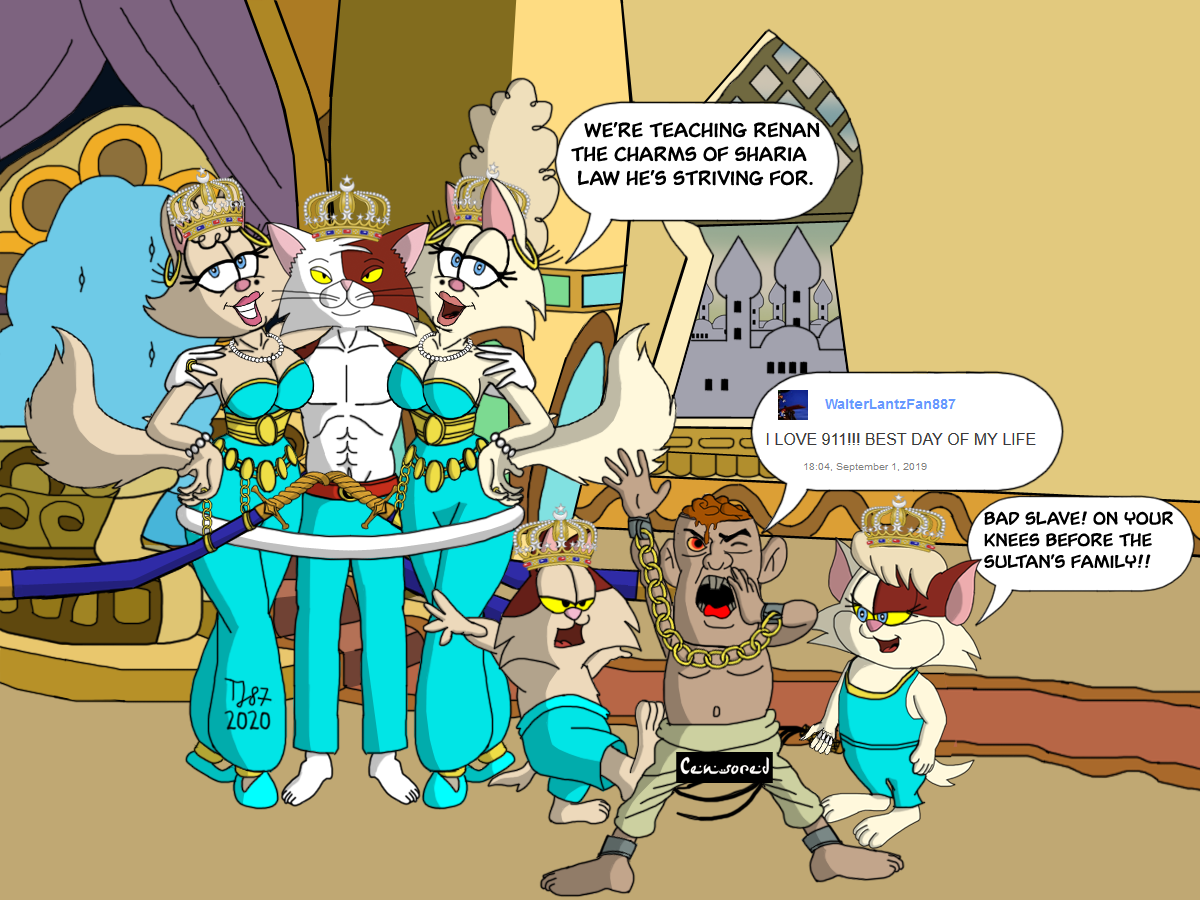 Description
Back in September 2019, Renan "WalterLantzFan887" Nogueira has stated in public that he does hate the United States of America
https://tomandjerry.fandom.com/wiki/Thread:45168#13
in the comments you can see in the link. Which is strange as he claims to enjoy at least four American cartoons:
- "Woody Woodpecker"
- "Animaniacs"
- "Spongebob Squarepants"
- "Tom & Jerry"
My American pen friends have witnessed this show of Bahiano idiocy and I did promise them to draw an appropriate graphic satire with Nogueira once I develop a convincing concept. A week ago I managed to find on YouTube a French 1996 cartoon I used to enjoy in my childhood
https://www.youtube.com/watch?v=hD_b2C172UA&list=PLZs0gQed9tMQKVnGu8Nlc8IyGayiMIvbG&index=7
Jessica the Cat (she appears between 3:24 and the end of the episode) makes a nice reference for poses - I've redrawn one from 3:39 with longer legs. Then the picture has been steadily developed.
Crazy Nogueira was drawn just like here
http://www.fanart-central.net/pictures/user/TeeJay87/860104/Terrorism-in-Bahia
with appropriate modifications as a harem slave. Adam (Penelope's son with Stan) is kicking Renan's fat butt and his sister Mary-Ann (Mona's daughter with Stan) is about to repair the mistakes Renan's parents have made while bringing him up - with a lash.
Since that Bahiano doofy from Salvator wishes to live under Sharia Law, let his wish be fulfilled.
Mona and Penelope Pussycat belong to PAWS Inc.
Stan(isław), Adam and Mary-Ann Zaleski belong to me
Renan "WalterLantzFan887" Nogueira belongs to nobody.
General Info
Comments
3
Media
Digital drawing or painting
Time Taken
Haven't checked
Reference
See description