Bertorelli Syndrome
Bertorelli Syndrome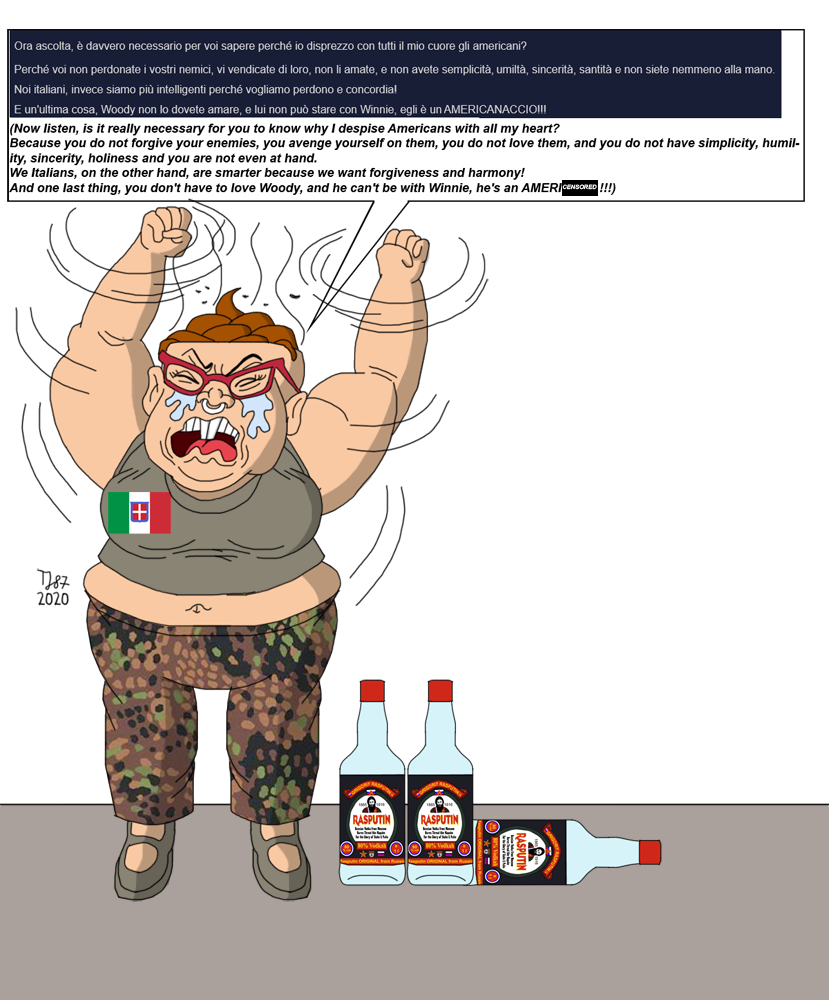 Description
Back in November 2019, the Tom & Jerry Wiki was attacked by an apparently insane fangirl from Italy, who claims to see the devil anywhere, including her fridge and bathroom. About a month ago, that addle-cove started to show off her anti-American sentiments
https://walterlantz.fandom.com/wiki/Real_Gone_Woody#comm-6045
where she wrote in her mother tongue:
"Ora ascolta, è davvero necessario per voi sapere perché io disprezzo con tutti il mio cuore gli americani?

Perché voi non perdonate i vostri nemici, vi vendicate di loro, non li amate, e non avete semplicità, umiltà, sincerità, santità e non siete nemmeno alla mano.
Noi italiani, invece siamo più intelligenti perché vogliamo perdono e concordia!
E un'ultima cosa, Woody non lo dovete amare, e lui non può stare con Winnie, egli è un AMERICANACCIO!!!"
Translation:

"Now listen, is it really necessary for you to know why I despise Americans with all my heart?

Because you do not forgive your enemies, you avenge yourself on them, you do not love them, and you do not have simplicity, humility, sincerity, holiness and you are not even at hand.
We Italians, on the other hand, are smarter because we want forgiveness and harmony!
And one last thing, you don't have to love Woody, and he can't be with Winnie, he's an AMERIC*** !!!"
As a person, who has relatives and pen friends in the United States, I can only say that I find her idiotic anti-American sentiment especially disgusting.
Not to mention her nation received boons from Marshall Plan after WW2 and she shows gratitude by spewing at the benefactors. Even dirt on a road does not lay that low.
You can see more of her idiocies here
https://walterlantz.fandom.com/wiki/Special:Contributions/151.50.89.91
which all testify that our Bertorelli fangirl is apparently suffering from bad hormone disorder and she is trying to cure it with alcohol. Pretty much like her idol Alberto Bertorelli.
I plan fitting our Bambina Italiana on a bigger picture with additional characters.