Dolt-on-Ism: Dolty Manhattan
Dolt-on-Ism: Dolty Manhattan
Dolt-on-Ism: Dolty Manhattan
by
TeeJay87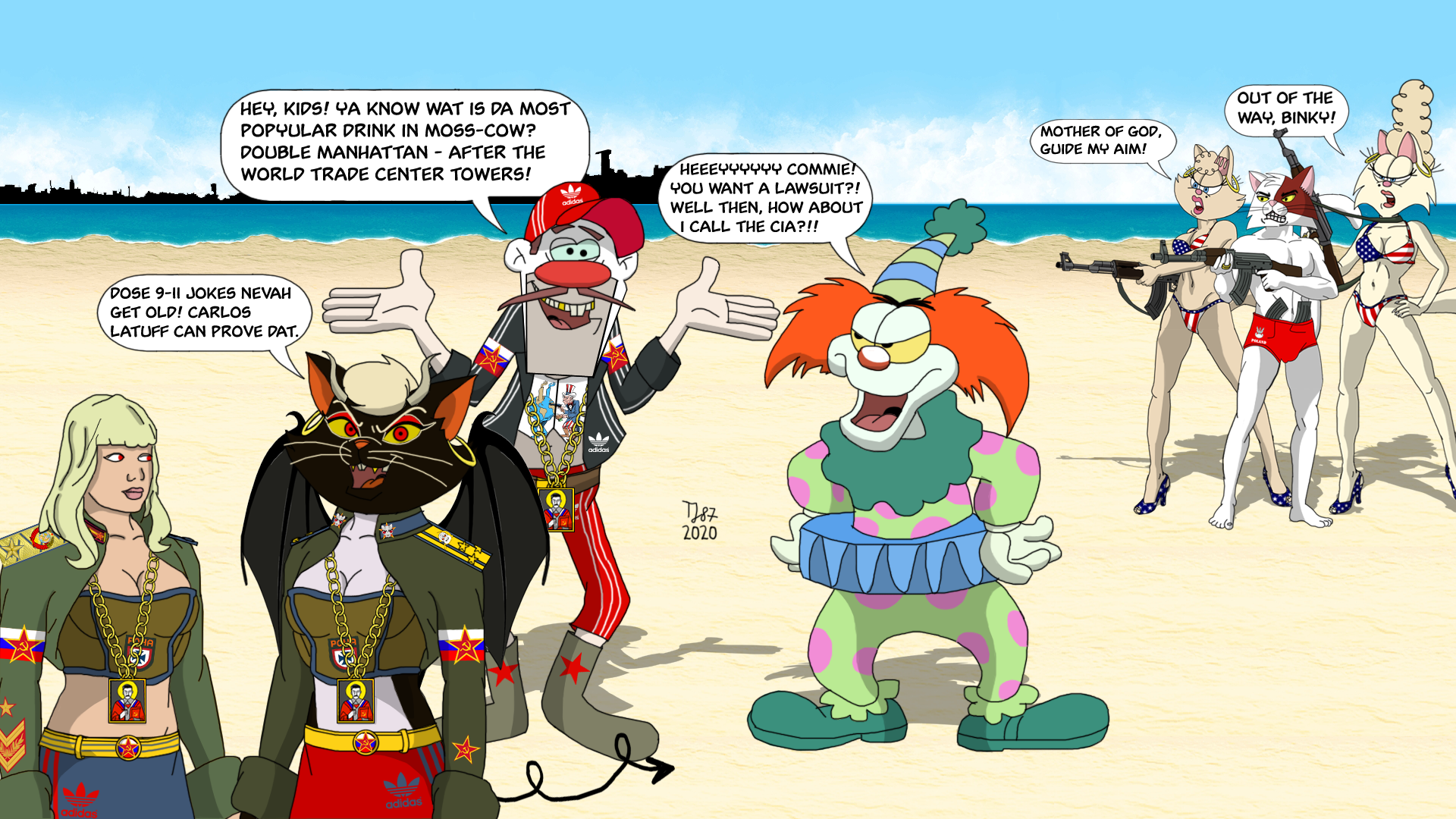 Description
This huge picture has been developed from combining the drawings listed below:
-
http://www.fanart-central.net/pictures/user/TeeJay87/860784/Two-approaches-to-Clowning-WIP
-
http://www.fanart-central.net/pictures/user/TeeJay87/860793/The-Villainesses-of-Working-Class-WIP
-
http://www.fanart-central.net/pictures/user/TeeJay87/860810/AK-47-Penelope-Pussycat-2015-2020
with additional characters and a summer-appropriate background.
The reason for developing this work was because I find those 9/11 jokes told by radical leftists utterly disgusting, as well as those given graphic form (Carlos Latuff is the model example with his below-cringe drawing
https://archive.org/download/9118YearsOn/9118YearsOn.gif
). The joke about Double Manhattan being a long drink comes back from September 2001 - I heard it for the first time being a junior high school student back then.
It was apparently made up by one of those neo-communards you can see on DeviantArt, Tumblr, Twitter, high schools, in Moss-Cow/North Korea/People's Republic of China/London/Los Angeles/San Francisco/San Diego/New York/Salvator, Bahia, Brazil/similar dens of leftism, and in hospitals for the mentally ill, as only such dregs find human tragedy amusing.
I really hope those so-called "vanguards of the communist revolution" someday grow functioning frontal lobes and realize how wrong they have been.
Not flagged mature content, because
Looney Tunes,
Woody Woodpecker
, and
Tom & Jerry Cartoons
are shown to minor audiences despite the amount of violence they contain.
Penelope Pussycat, Mona, and Binky the Clown belong to PAWS Inc.
Katya Kazanova belongs to FX Studios
Stan(isław) Zaleski, Sindri Bisitsokoshkha and Dolt-on-Istov belong to me.
I would like to thank my pen friends from the Garfield Wiki for grammar check-up and developing the characters' quotes.
General Info
Comments
3
Media
Digital drawing or painting
Time Taken
Haven't checked
Reference
See description