Comrade Majesty and Her Cheeki-Breeki Retinue
Comrade Majesty and Her Cheeki-Breeki Retinue
Comrade Majesty and Her Cheeki-Breeki Retinue
by
TeeJay87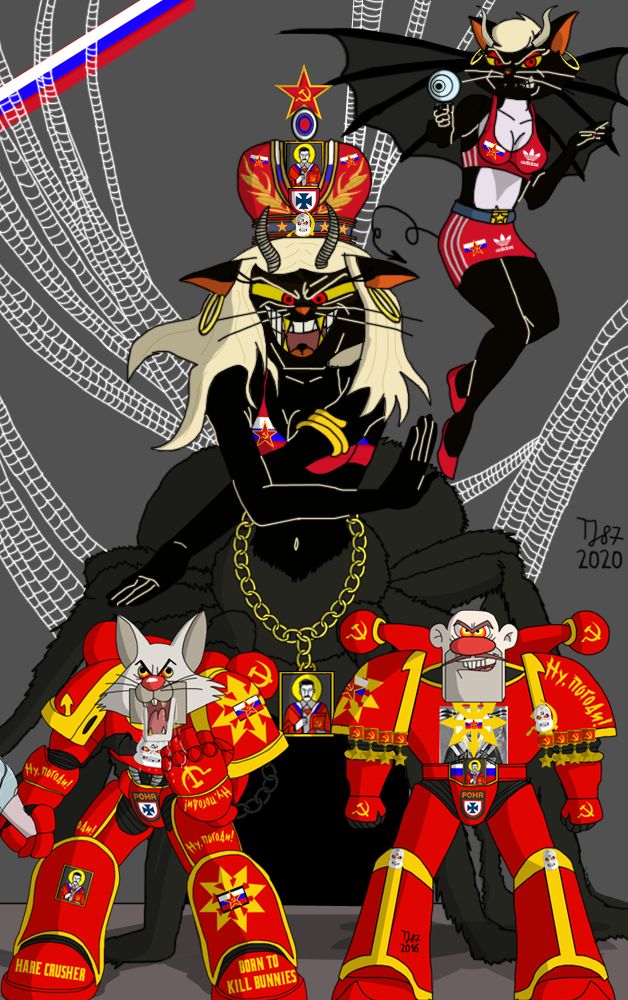 Description
Sindri has presented Dolt-on-Istov and Paskudnikov to her mother - a demon-cat princess ruling the part of the Frozen Hell, where souls of Russian, Belorussian, Bulgarian, Serb and other Stalin-worshipping communists go in their afterlife as a reward for performing their hideous deeds. Lelth, the Czarina of the Cheeki-Breeki-Web Pits, became that much satisfied with Doltie's and Vova's corruption that she elected them as her mortal champions amongst humans and canines respectively. Granted with fiendish power armours and imbued with devilish hatred towards anyone and anything not supporting communism, those lost moujiks are willing to prove themselves to their new patron...



I have been planning to draw Sindri's and Vlondril's biological mother since at least October 2019. After quite a long research and concepts, the feline succubi czarina has been developed. I took inspiration for her design from a Dungeons & Dragons character called Lolth, the Spider Queen 
https://forgottenrealms.fandom.com/wiki/Lolth
My character was named "Lelth" to make a reference to the D&D original.
All the depicted here characters belong to me.
General Info
Comments
3
Media
Digital drawing or painting
Time Taken
8 months
Reference
See description