The Soviet Princess Outta Hell
The Soviet Princess Outta Hell
The Soviet Princess Outta Hell
by
TeeJay87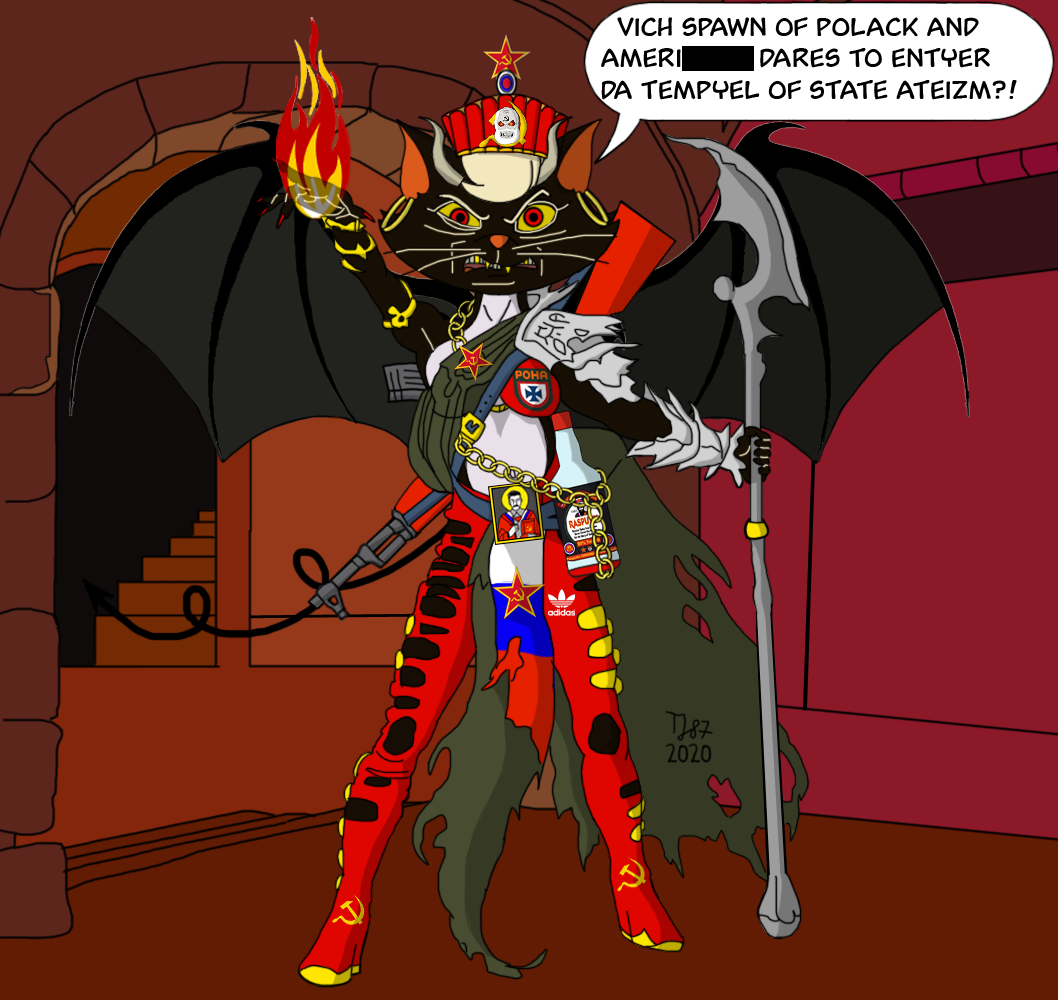 Description
The completed version of
http://www.fanart-central.net/pictures/user/TeeJay87/861761/Sindris-New-Robes-2020-WIP
supplemented with the little detail from
http://www.fanart-central.net/pictures/user/TeeJay87/861781/Sindris-Coronet-WIP
.
This digital drawing was inspired by the following media:
- Todd Lockwood's Divine Disciple painting from the 2003
Dungeons and Dragons: Forgotten Realms Campaign Setting
;
- the right part of this
https://www.deviantart.com/famousmari5/art/Allied-Mario-Girls-World-War-II-776039009
where you can see Princess Daisy from the Super Mario series clad in a Soviet M1943 uniform drawn with mistakes.
A princess serving an army, which is responsible for the deaths of the princesses from the Romanov Dynasty they did murder back win 1918 - where is the logic here?
It is a serious flaw in Daisy's case, not in Sindri's case - being a daughter of a Russian demon princess and Czarina of the Frozen Hell in one
http://www.fanart-central.net/pictures/user/TeeJay87/861003/Comrade-Majesty-and-Her-Cheeki-Breeki...
does grant Sindri the matching title. Russian Orthodox monks can testify, that their homeland fell into the devil's iron yokel back in 1917 and nothing did change at all as I'm posting this.
Besides, Sindri's paraphernalia does indicate, that she is an actual embodiment of the Soviet Princess idea more than Daisy drawn by FamousMari5:
- typical Russian facial features, including square jawbones, Mongol centerfold on the forehead, and golden teeth;
- the Russian flag is worn under the trouser belt with proper insignia;
- the coronet modeled after the one worn by Anastasia in Fox animated film, just with sigils of Marxist corruption;
- the rotten-khaki olive cape;
- Glaive of the Moss-cowian Butcher, forged to look like carved from bones;
- fiendish-crafted AK47 Sindri is carrying slung beneath her cape;
- enchanted Rasputin vodka bottle to produce an infinite amount of booze, worn on a golden chain for a purpouse;
- and the foul language, typical to Bolsheviks and their descendants-Russian communists.
Sindri Bisitsokoshkha belongs to me.
General Info
Comments
4
Media
Digital drawing or painting
Time Taken
2 months
Reference
See description