Chaos Space Kaleb
Chaos Space Kaleb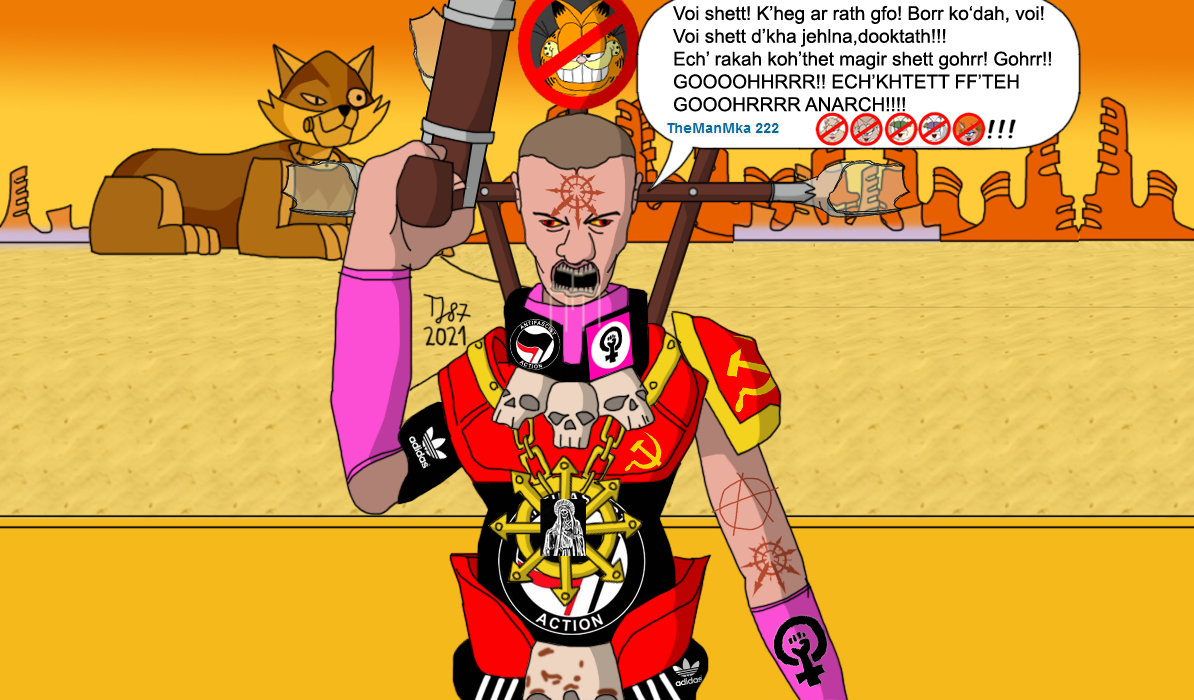 Description
Kaleb has ascended another level in trolling - he became a
Dawn-of-War
-styled Chaos Cultist, who worships Chaos Undivided as Santa Muerte. The dark powers he worships have sent Kaleb to Planet Catopia to hurl an anarcho-communist revolution, using a flintlock pistol, broken bottles on a wooden racks, and Kaleb's inner rage expressed in Dark Tongue (the language of demons and occultists in Warhammer universe). His quote was taken from Dan Abnett's novel
Only in Death.
The picture is based on Kaleb's recent attack
https://garfield.fandom.com/wiki/Special:Contributions/TheManMka_15
, where he left 225 vandalisms for fixing. He's been trying to waste Garfield Wiki since 2018 - despite being banned more than one thousand times, Kaleb keeps makig accounts only to have his vandalisms rejected and the accounts closed. He REALLY believes he can scare me and fellow Wiki admins. Just like Chaos Cultists from Warhammer believe, that the best thing for humanity is destroying the humanity.
Don't worry - the natives of Planet Catopia have access to laser, plasma, and melta (microwave) weapons, including individual firearms using such technologies. Chaos Space Kaleb won't be hurling his blasphemies near the Catopian Sphinx for long, especially since his flintlock pistol can't stand up to modern weaponry. Just like me and fellow Garfield Wiki admins and the FANDOM Staff repel Kaleb's attacks.
Warhammer 40K belongs to Games Workshop
Kaleb "TheManMka" Cooke belongs to its respective owners
General Info
Comments
4
Media
Digital drawing or painting
Time Taken
Haven't checked
Reference
See description