R1/2 - Ranma's worst nightmare
R1/2 - Ranma's worst nightmare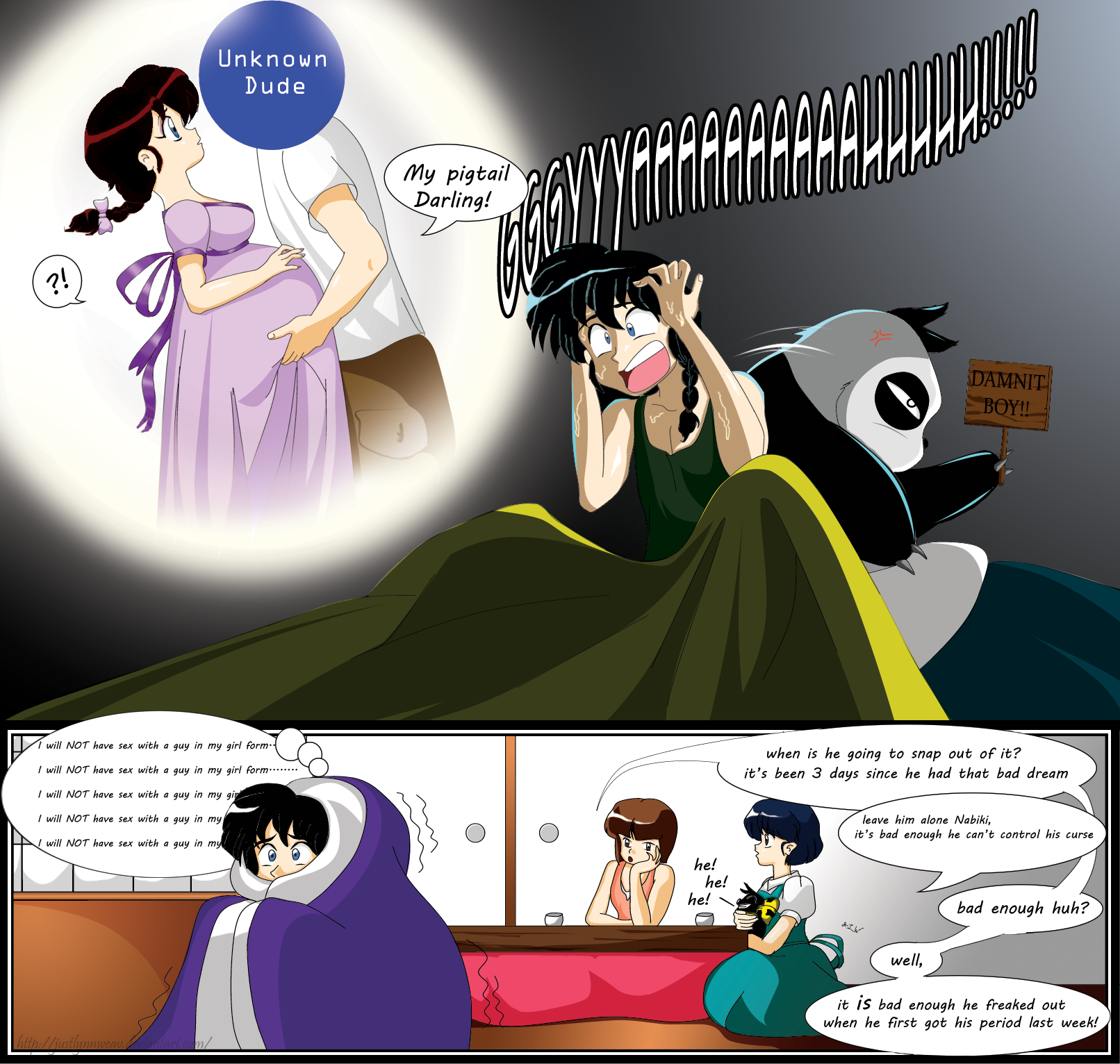 Description
thanks for one of my DA friends Adree for giving me permission to use his Danny Phantom fanart comic idea. (thanks bro!) 
here's his comic -->
http://neoslashott.deviantart.com/art/DP-The-favorite-24163048
man, this pop up in my mind when I heard about this fanmade movie coming up called "Ranma's decoration of motherhood." to me it's more like "HIS WORST NIGHMARE!!" muaha! XD
but what I really think it is possible that it will happen to him to get pregnant just because everything in his body reverses when get splashed by cold and hot water. (like males and females reproductive system switch over) but, will he take a plunge to do it with a guy with his female form? I don't think so, the dude's straight and I don't think he ever go pass that limit point. or Akane hit him in the head with a frying pan again thinking he's a girl. lol!! :lol: gowd I love that episode!    
hope ya like.
© Ranma 1/2 by Rumiko Takahashi, Kitty, Viz Media
P.S.  the reason why his girl form's hair is not red because in the manga is originally black.
P.P.S. to the fans that don't know about the fan made movie project, here's the link -->
https://www.youtube.com/watch?v=NmIJTJ6d0eA
General Info
| | | | |
| --- | --- | --- | --- |
| Ratings | | Comments | 0 |
| Category | Anime/Manga » Ranma ½ | Media | Digital drawing or painting |
| Date Submitted | | Time Taken | August 7, 2014 |
| Views | 961 | Reference | Photoshop CC Microsoft Photodraw |
| Favorites... | 0 | Keywords | nightmare, ranma1_2, form, ranma, akane, dream, genma, panda, mpreg, nabiki, transg |
| Vote Score | 1 | License | Berne Convention |