Tribute to Berserk
Tribute to Berserk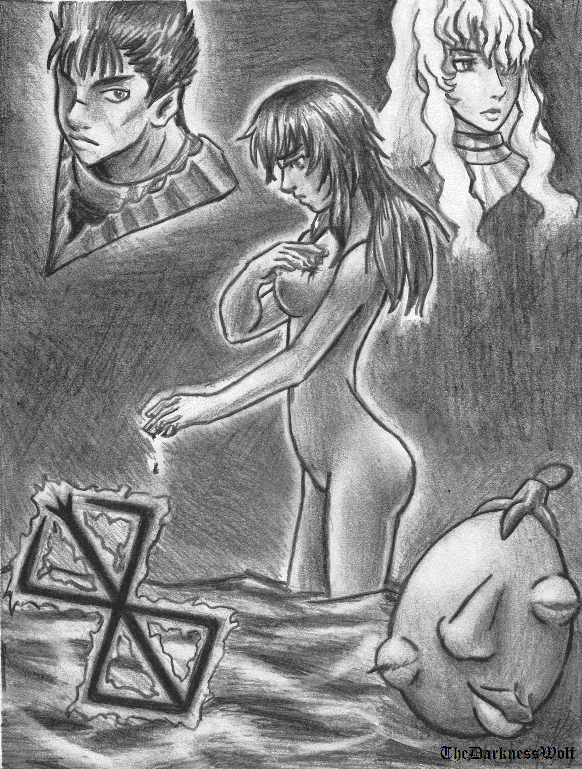 Description
While I was rereading the manga Berserk, I was thinking I haven't done anything recently for this and so this was born.
I took this very seriously, I taped it up to a board as to not let any wrinkles that I might cause got on it. A paper towel folded for my hand as to not smear the already laid down pencil work. I made my own tortillion (a blending tool) to start out with, and then used one of my fingers to make it blend better together.
I started with the F then went on to the HB and finally used the 4B and the 8B.
And you want to know why I prefer working with pencil? Well because it can ERASE! Not like color pencils, make a mistake with those babies and you're stuck, you may be able to erase some of it, but a faint line will still be there. Forever mocking you.
So anyways, Berserk is about the conflict between those two guys. Guts and Griffith. Guts is accentually the good guy, and Griffith is the bad. Mainly because he, Griffith, made sacrifices of all the members of the Hawk to become a member of God Hand. And now Guts main goal is to see Griffith dead. Now Casca, the woman, went crazy because she was raped by the many demons that ate the sacrifices, and then by Femto, and can no longer talk and is so far in a questioning pose with her mouth open and eye brows raised(except for when the brand bleeds, she is not happy when that happens). That brand is the mark that shows that they are in fact a sacrifice and all sacrifices are supposed to be dead from the demons eating and tearing them apart in a massacre. The behelit, the egg, is the way a normal person can become an Apostle, or like Griffith a member of God Hand. Apostles are the demons but in other words.
Guts now goes around killing the demons that killed the Band of the Hawk. That is the only good part of having the brand, it bleeds when apostles are near. The only bad thing is that they turn back to normal after they are killed so people think that he is a murder, leaving a trail of blood where ever he goes.
Fun Fact Guts is considered a cursed child. He was picked up from the hanging corpse of his mother and reeked of death. Yay!
I only drew Guts once, and that was long ago. I just can't make his face. He looks like a 30 year old when he is 21! War can be hard on a face. But not on Griffiths and he is older, like 25 or so (the author never gave an age, but he looked like that when Casca was 12), he looks like an angel.
Guts, Griffith, Casca, the brand and extra are from Berserk by Kentaro Miura
I just drew it, art and poses by me.
References for Guts
http://images4.wikia.nocookie.net/__cb20100214204956/berserk/images/thumb/7/75/Gatts1.jpg/200px-G...
, and Griffith
http://imageshack.us/photo/my-images/849/153398.jpg/
General Info
Comments
1
Media
Graphite pencil
Time Taken
5 days
Reference