Kingdom Hearts: 358/28 Days Later
Kingdom Hearts: 358/28 Days Later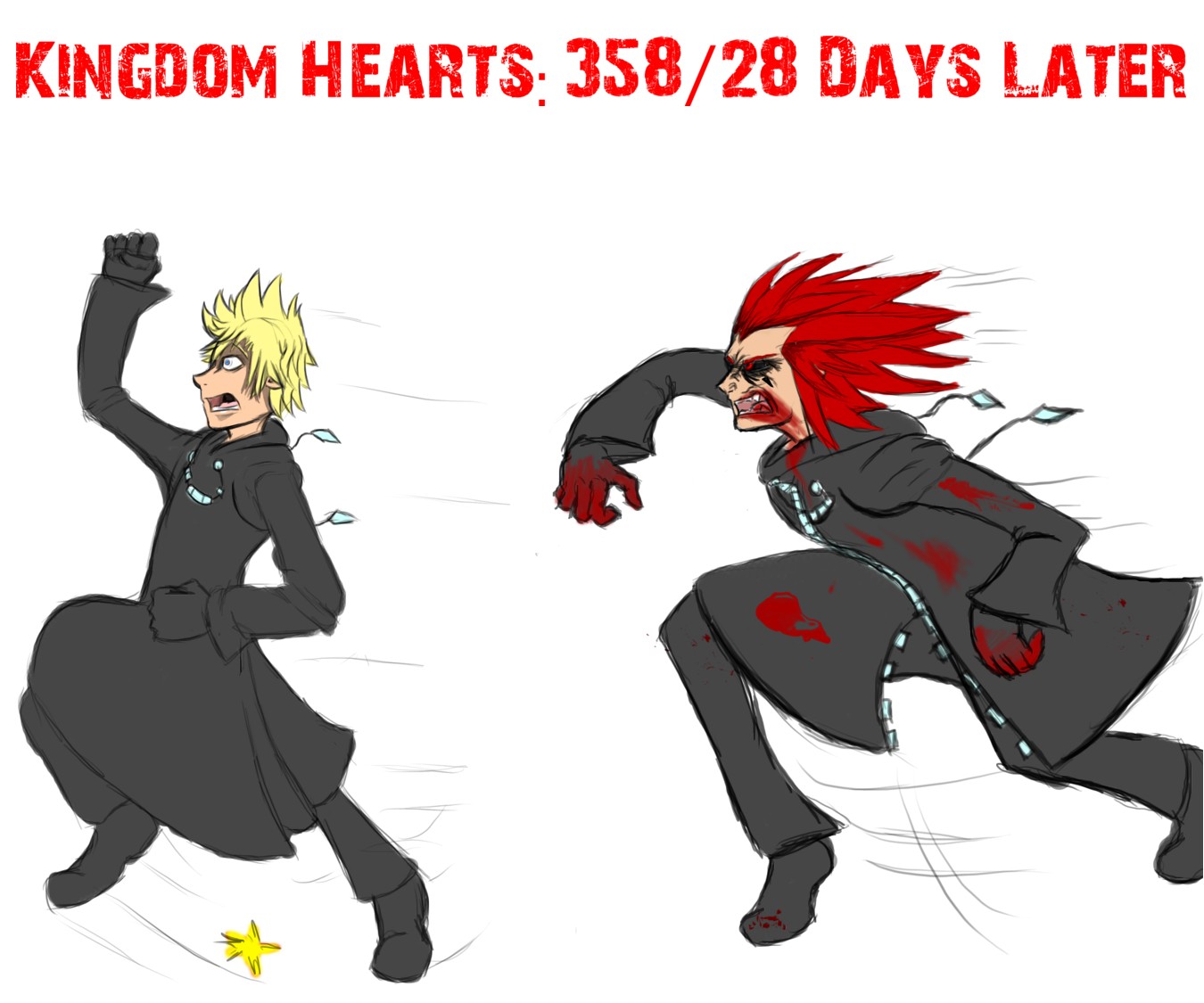 Description
Commissioned picture for ZukoInferno.

Ahaha, I actually had this idea first, and never went through with it. Chris had to PAY me in order to do it. XD

If you are a retarded monkey to this series, let me explain.

There was a game by Square Soft (Enix) entitled Kingdom Hearts: 358/2 Days. I looked at the title, and the first thing that pooped into my head was 28 Days Later.

This says a lot about how my mind works.

I also recalled Axel (redhead) calling Roxas (blondie) a zombie in that game.

BUT NOW THE TABLES HAVE TURNED! AXEL HAS BECOME INFECTED, ALONG WITH THE REST OF THE ORGANIZATION, AND NOW IT'S A RACE AGAINST TIME TO - yeah, that could make a pretty kickass movie/comic/vidya gaem/book.

My dad actually corrected me on calling the 28DL zombies "zombies". He said;

"No, no, they aren't ZOMBIES - they're people turned insane by a virus, so then they kill people, and stuff, and they bleed from their mouths"

Just like... zom... bies...?
General Info
| | | | |
| --- | --- | --- | --- |
| Ratings | | Comments | 25 |
| Category | Games » - by Publisher » Square-Enix » Kingdom Hearts series » Crossovers | Media | Digital drawing or painting |
| Date Submitted | | Time Taken | 2 hours |
| Views | 1251 | Reference | Roxas pic, Axel pic |
| Favorites... | 11 | Keywords | Kingdom, Hearts, 28, Days, Later, 358/2, TheGameArtCritic, Roxas, Axel, zombie |
| Vote Score | 4 | License | Berne Convention |