Eclipse - Human Practice
Eclipse - Human Practice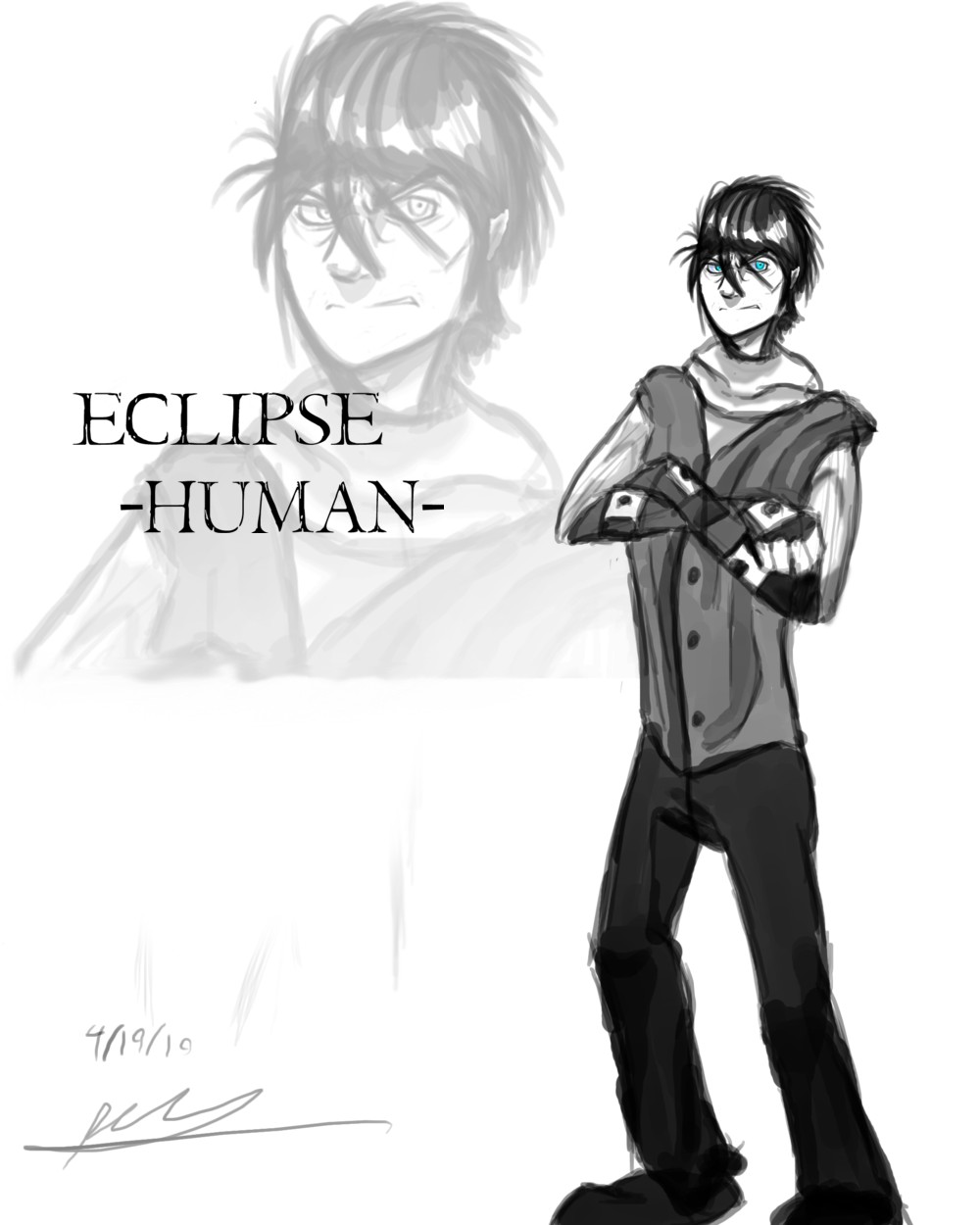 Description
No, this wasn't for me, this was all just a fanservice - why do you ask?

*COUGHHACKDIE* This is Eclipse. As a human. *awaits the bricking*

I have screwed up so much whenever I tried to make Eclipse a hooman. SO. MUCH. I finally did it right. Yay. Go me. It's still fanservice. *bricked*

HOW TO MAKE A GOOD/DECENT CHARACTER

You: ASDFOMGWTFBBQ LET'S MAKE THE CHARACTER HAVE SUPER POWERS AND HE/SHE CAN FLY AND HE/SHE HAS SUPER DUPER STRENGTH, AND HE/SHE CAN GO SUPER AND HE'S/SHE'S A BAJILLION.2 TIMES STRONGER THAN SUPER SONIC AND HE/SHE'S EYES CAN TURN A BAJILLION DIFFERENT COLORS TO MATCH HIS/HER MOOD -

Me: no, eff you, generic Sonic fan. You are unoriginal, and boring. Here's how to REALLY make a character;

1. Give the character a name (duh). Try to use a name that hasn't been used a billion-and-two times. Eclipse is a poor example. So is Crystal, Umbra, and anything with the word "dark", or "night" related, or in it. A good example is Jacob the Hedgehog. Yes, he may be an unoriginal hedgehog, but he's got a normal name to help people relate to him more.

2. DO NOT. DO NOT. DO NOT GIVE YOUR CHARACTER A SUPER FORM. It has been already done twenty-million-and-a-half times, and the idea has been milked to the point in which the super form is no longer threatening. It's just a goddamned super form. Oh no, you're sparkly. You must be an effing vampire.

3. DO NOT MAKE YOUR CHARACTER A VAMPIRE/WEREWOLF/DEMON/D, ALL OF THE ABOVE. Like the super form, this idea was milked to death. If you've done this, shut up, smack yourself around a few times, then go crawl into a corner and think about your life. I am guilty of using demons. I, however, so very totally did it before Naruto made it super-duper-popular, and shut up, I can do it because I said so.

4. Shut up, and skip to 5.

5. THE NINJAS DONE STOLED NUMBER FIVE.

6. So you want to make your character have a backstory. If you're going to make it tragic, or something, then please do NOT involve Dr. Robeggnikman. PLEASE. FOR THE SAKE OF THE CHILDRENS. NEVER use Eggman. Eggman doesn't just randomly appear out of blipping nowhere in order to kill your character's parents who he doesn't know. NO. Eggman does NOT go searching around the planet, thinking "Hmmm... who can I kill today? I love killing random strangers!" NO. NOOO. Eggman doesn't THINK like that - he doesn't BREATHE like that! Eggman even SAID in Sonic X (not that it's SO VERY ULTRA close to canon, but whatevah) that "when you actually hurt somebody, that's going too far". Yus. It IS going too far for Eggman. Shut up, I know I made him kill Amy, but Amy isn't a person, Amy's a man-eating rhinosaurus. I DO WHAT I WANT, GRAAAAHHHH.

7. Don't make your character a hedgehog. Or a ninja. Or both. Japanese culture is no longer popular, and you will turn into a if you dare touch any more of it. As for hedgehog-ness, there are PLENTY of animals you can use - after all, our planet is not completely inhabited by echidnas, hedgehogs, and foxes (and wolves). We have MANY interesting creatures, including BUGS. How come no one has used a bug yet, hmm? Use a goddamned bug. They can make interesting characters.

8. A character's personality is a very very good thing. Please decide to magically give your character(s) one. Your character means nothing to me if it's ultra powerful, but lacks the ability to carry on an interesting conversation. That's when they become ZOMBIES. And God-knows how much you all hate those fricking zombies. Those stoopid things'll eat your fingers. You want your fingers? THEN DON'T MAKE ANY MORE ZOMBIES.

Good example of a well-rounded character;

a. Eclipse. Over time, Eclipse has gone from a flat, good person, to someone who focuses on the best decisions to make, as opposed to the RIGHT decisions to make. He will kill a person if it means doing something like winning a war, or saving himself. In that way, he's slightly selfish. Also, see Eclipse's profile thingy to see more sheet on him.

b. Jacob. AHAHAHA, AND YOU THOUGHT I WOULDN'T USE HIM AS ANOTHER EXAMPLE! Stupid fans! You know NOTHING about me! NOTHIIIING! Jacob is not a good guy, or a bad guy. He is just a regular guy. He doesn't even have any powers. He is a doctor who studies demons in his spare time "THEY'RE REAL, I SWEAR!". Before he... *sigh* became possessed by the very thingermajig he studied, he was a professor at the Moonglow University. He taught "The Study of Demons", 1, 2, and Advanced. He so totally has a life, why do you ask? Oh, and he killed all of his students, and his fiance after horrible scary events of I'm-crazy-and-suddenly-ultra-Christian (no offense to the ultra Christians).

Where were we?

Oh.

Wait.

8 1/2. -

Flat Character Example: Fully good, or evil. Will always refuse to join the other side, and GRARRR I WILL NEVER JOIN YOU, GENERIC HERO, OR VILLAIN, OR EGGMAN! The one character trait that will stick out is "emo", and personally, I don't think "emo" is a character trait. The character's other character trait is usually explosive anger targeted at absolutely nothing for no real reason. It's more like the character has random hissy-fits because the character didn't get enough attention. No, really. the character never has a reason to be anger, yet chooses to do so. Like an asshole. This makes for an unlikeable, and so totally not sexy character.

Well Rounded Character Example: The character actually behaves correctly to certain situations depending on certain feelings the character may have, or fears, or special "quirks" (see mental illness). If the character feels out-of-it, and is asked to help fight, or whatever, the character will NOT automatically spring into action, and blow up everything because said-character is super-sexy-and-cool. Said-character might fight, but maaaaybe won't preform his or her best, or maaaaybe, if angry, or something, like, because someone blew his or her arm off, he/she will fight harder, and more violently than normal (brutal attacks are much preferred to be colorfully described. The color red is my favorite color in this). The character is NOT bipolar (unless he/she really IS bipolar). The character WILL REACT IN A REALISTIC WAY to certain situations, and WILL NOT BE ABLE TO KEEP FIGHTING IF SAID-CHARACTER HAS BEEN SERIOUSLY INJURED. YOUR CHARACTER IS NOT CHUCK NORRIS. YOUR CHARACTER IS NOT COOL ENOUGH, AND IF YOU PLAN FOR THE CHARACTER TO BE COOL ENOUGH, WORK IT INTO THE CHARACTER, DON'T THRUST THE POWER ONTO US - IT'S OVERWHELMING, YOU PLEBES!

I am now tired of yelling in all caps in order to make myself sound cool.
General Info
Comments
36
Media
Digital drawing or painting
Time Taken
2 Days
Reference
none