Condemned/Haine Bio
Condemned/Haine Bio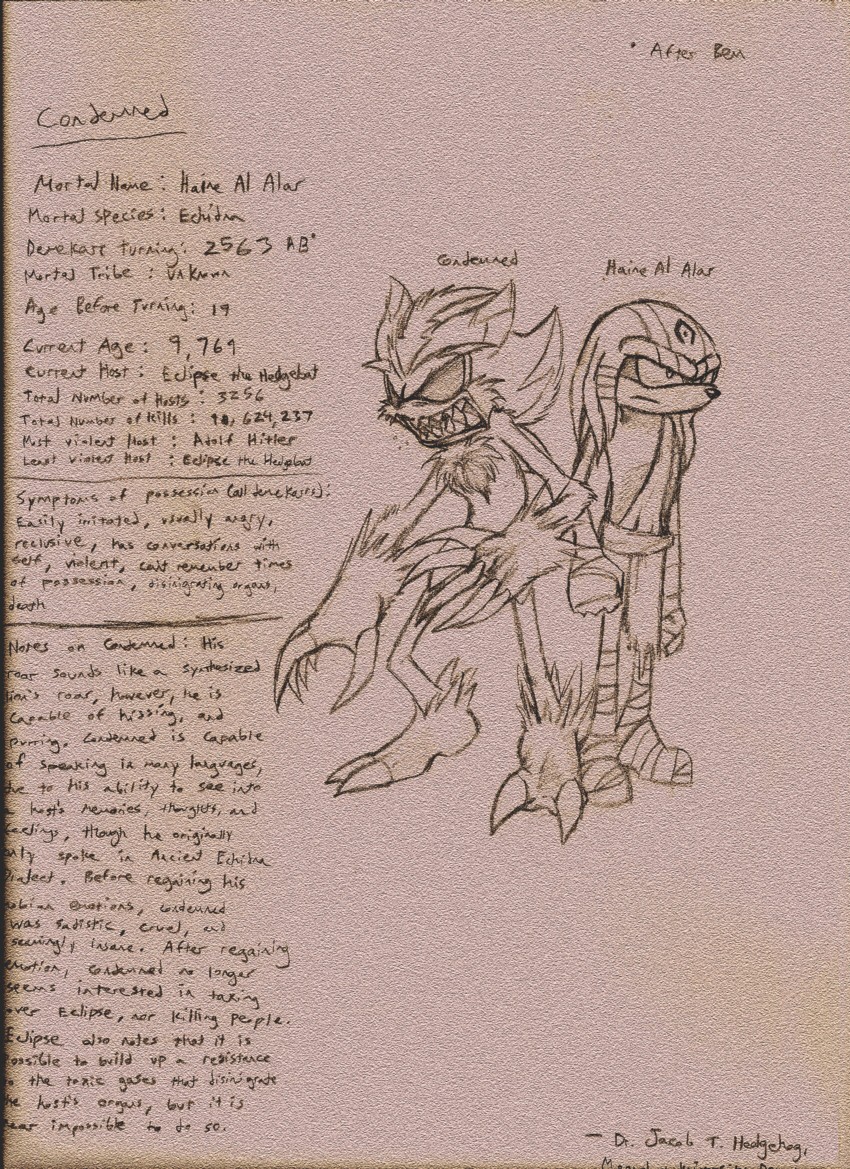 Description
NOTE: Both Condemned and Haine have been given the same biography, as they are the same person. Alrighty then.
Origin
Condemned was inspired by many of my favorite villains at the time of my days in the dreaded festering pit that the professionals call "Middle School". He was a slightly better idea then Eclipse the Hedgecliche. Condemned was a mixture between Venom, from the Spider-Man series, aaannd... well, I'm not exactly sure what else. I completely forgot. All I can say is that his design - in fact, the design of the demekarrs in GENERAL was the most creative thing I came up with in middle school. It belongs to me, not you. You plebeians. If you want to make a demekarr character, you need permission.
History
This is a link to how Haine became Condemned:
http://www.fanart-central.net/chapter-87224.html
(NOTE: my writing skillage sucked back when I wrote this, so please forgive any stupid dialogue)
Condemned began his career by accident. It started when he tried to get the mongolian warlord, Attila the Hun's attention, by tapping him on the shoulder (he was in spirit form when this happened). This sucked Condemned into Attila's body, and allowed Condemned control over his body. This is what caused the bloody mess that the Mongolians created at that time. They weren't being led by Attila. They were being led by Condemned.
After Attila died from what seemed like a nosebleed (though was actually Condemned's toxic gases), Condemned sent himself forward in time, now ready to experiment with another host, all the while a newfound lust for bloodshed slowly took over Condemned's mind, and for a very long time, took it over.
After many possessions, including that of Adolf Hitler, Condemned reappeared once more, only this time, twenty-eight
years after The Golden Years, the time in which Sonic the Hedgehog, Knuckles the Echidna, and Miles "Tails" Prower were the active world-defense (currently, Knuckles has retired to watch over the Master Emerald, Miles Prower is working at Zephcorp. as a chief mechanic, and Sonic the Hedgehog has died prematurely). It was at this time in which Condemned found Eclipse the Hedgebat (
http://www.fanart-central.net/pic-782696.html
), and took over his body for the first time, seeing him as a fitting vessel.
After many fights for control over Eclipse, and many more attempts at destroying everything Eclipse has cared for, Eclipse finally found a permanent shield against Condemned - a family. Luckily for Condemned, when Eclipse had his son, Luminosidade (Luminos), Condemned had been forced to send a piece of himself into the child while he was still a fetus, creating the demon spawn, Vorace.
Unfortunately, Vorace proved to be uncontrollable, and later, sided with Eclipse, and all of Hybrid Nation, as it turned out that Vorace was born retarded, lacking in demonic essence, and refused to kill mobians.
Condemned began regaining his sanity after he cried from his
realization that he would never be respected, only feared, and hated, which was what drove Condemned to madness in the first place. At the time, however, Condemned had been in control of an entire demekarr army. Once he showed that he had feelings, the demekarrs deemed him weak, and immediately
attacked him, Condemned, now being an enemy.
After the demekarr takeover, Condemned started losing interest in taking over Eclipse's body, or even killing anyone. This all happened because Condemned fell in love with the queen of Hell, Ryu.
Long after all that the demekarrs destroyed was fixed, Ryu and Condemned (using Eclipse's body) had a child named Malvagita.
Personality Through the Years
Eclipse's Possession: Completely bloodthirsty, and sadistic.
If he had the choice between killing a child, and killing the child's parents, he would choose the parents, because then the child would have to starve, unable to live alone. He is completely sick, with evil matching that of Mr. Inderretta - maybe even worse.
Blood Wars: Quiet, as his need to slaughter mobians is satisfied by the horrors of the civil war between hybrids, and purebloods.
Demekarr Takeover: Especially hateful towards his brother, now killing to "show him" what kind of monster the dead tribe leader has created.
Post-Demekarr-Takeover: Quiet, and reclusive. Any attempt at taking over Eclipse's body is weak, and half-assed. He only becomes more active when Ryu is present.
Main Relationships
Eclipse: At first, Eclipse, to Condemned, was simply another host. Nothing more, nothing less. Over time, Condemned has developed a semi-friendly respect towards the hedgebat. Condemned often refers to Eclipse as"his best host", and will do anything to preserve Eclipse's life.
Ryu: Ryu is Condemned's love-interest, and partner in raising their child, Malvagita. Ryu is the first, and only being that Condemned has ever fully cared for (when not counting Mal).
Malvagita: Condemned's son, who Condemned only wishes the best for. Condemned constantly worries about not being the right father for Mal, as the demekarr often looks back at the gory path he has left behind in his history.
Vorace: Condemned's demon-spawn, who also counts as his first son. Condemned, at first, was horrified that Vorace was retarded, and like any normal parent, grieved. This grief came out as bursts of anger. Later, after the demekarr takeover, Condemned seemed less upset about Vorace, especially when he started having to give all of his attention to Malvagita.
Sonic the Hedgehog: Condemned hates Sonic, as Sonic's existence, while both alive, and as an angel, has always made it difficult for Condemned to thrive in his ability to mass-murder people. Condemned especially hates Sonic because it was Sonic who was able to cut Condemned's control of Eclipse in half, using an old machine that Miles Prower had created in order to purify any corrupt chaos emeralds.
Mikenno: Mikenno is just as troublesome to Condemned as Sonic is - not because of a pure aura, or a machine, like Sonic has, but the ability to jump into Eclipse's mind, and fight Condemned at his base of operations. Ironically, it was Mikenno who Condemned told about his feelings towards Ryu.