Attack of the Chibis!
Attack of the Chibis!
Attack of the Chibis!
by
The_S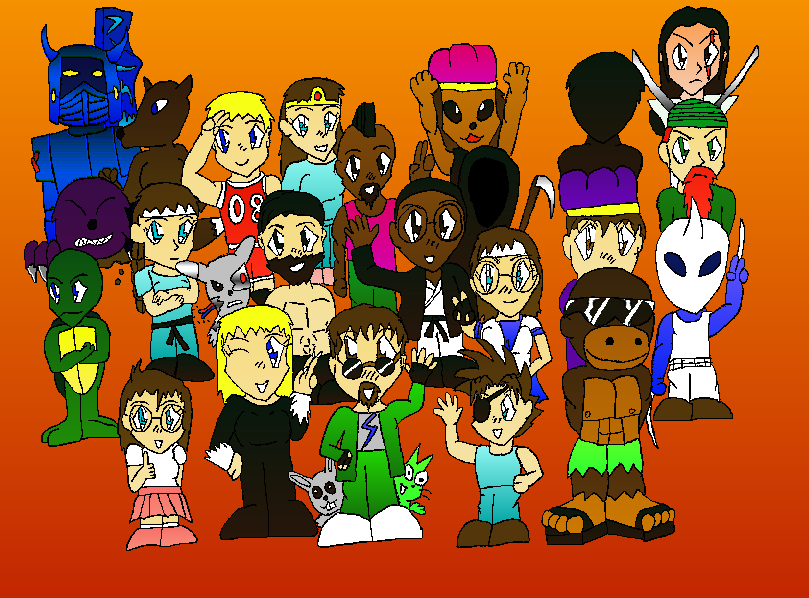 Description
These are characters from my online manga, Ultra Warriors (which can be seen at
http://www.geocities.com/the_only_s/mangahome.html
). This is my first time in both drawing in the "chibi" style, and using Paintshop Pro. Some characters have yet to appear, so here's a brief rundown of the characters:
(Top Row l to r)
Samur Ice - A samurai who harnesses powers of cold and ice. He is a competitor in the Galaxy Martial Arts Tournament.
Isugu - One of the Trulés (nature spirits), she is a three-tailed anthropomorphic fox who speaks using telepathy.
C-Dogg - The avatar of the Nogan God of academics, he is now a sports super-star and co-leader of the Ultra Warriors.
Allayah - The queen of the island of Phorbulaxx.
Jack Diaz - A martial arts competitor who befriends the Ultra Warriors.
Coulagemo - The king of Phorbulaxx and father of Minerva. After his death, The S resurrected him as a lion Trulé.
Mysterious Assassin - A shadowed being who killed Minerva, The S, and Coulagemo.
Godfather William - The leader of the local Yakuza chapter and Dino Bailey's archnemesis.
Professor Hedstrom - An evil scientist who has been conducting illegal and dangerous experiments.
(Second Row)
Tonisi - A blind mole Trulé who has excellent digging speed.
Ogami - The turtle Trulé, master of oceans and swamps.
Marium - Queen Allayah and King Coulagemo's adopted daughter. She was found near death and with amnesia by Allayah. She was nursed back to health by her, but still has no memory.
Mechachu - A robotic sentient mouse that is violent and perverted.
Dino Bailey - A wandering fighter who lost his arm in a battle with Godfather William. He owns a juice bar now.
Jerome-Sensei - An old friend of The S's and his martial arts teacher.
Reaper of the Gods - The ancestor of all Nogans and the one who decides watches the underworld.
Jen - Formerly the Nogan Goddess Minerva, she's The S's girlfriend, and now a member of the Ultra Warriors.
King Louis - The former Nogan God of death, he's The S's little brother, and now an Ultra Warrior.
Bauiki - A brash, young cloud Trulé.
(Bottom Row)
Prosperity - Minerva and The S's daughter; she trained in both fighting and magick.
Femme Feline - A martial arts competitor who befriends the Ultra Warriors.
Rubashi - A quick rabbit Trulé.
The S - The former Nogan God of justice, and co-leader of the Ultra Warriors.
Kyattsuai - A freaky green cat that claims to be human.
War - The son of The S and Minerva. A great martial artist, and the Mysterious Assassin's killer.
Shady - A rap superstar who was jumped in an alley and came in contact with some chemicals that mutated him into a part man, part gorilla. Nobody seems to notice. His best friend is Dino Bailey.