Comodice
Comodice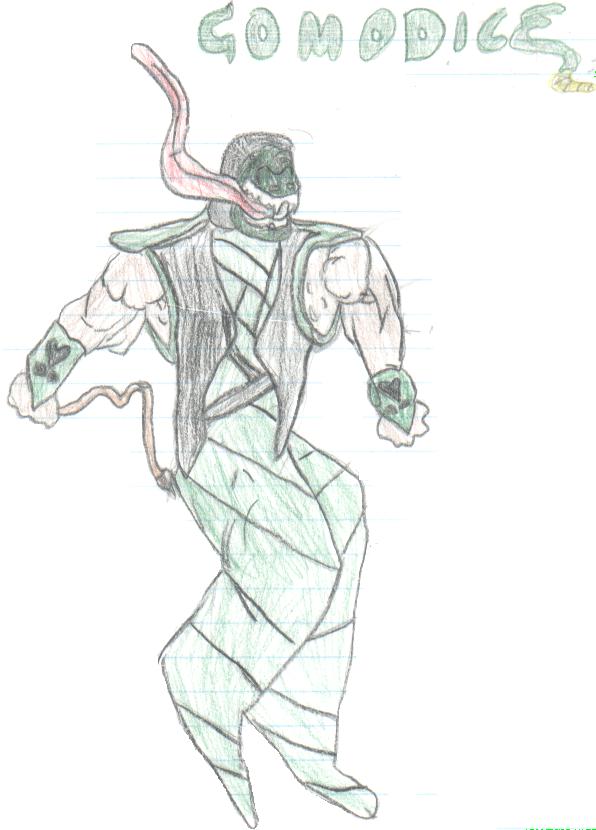 Description
Woooooah! Time to take a journey into the Time Capsule of S and take a look at this drawing from circa 1996! Back then I was uberly-into Mortal Kombat and created probably a billion fan characters and MK character ripoffs.

Recently, while trudging through the infernal abyss that is my closet, I happened to find this drawing of a jumbo Reptile-like character named "Comodice". However the Hell I came up with this name (and some of the details of this character), I have no clue. Maybe it was just my preteen brain being dangerously underdeveloped in character design. Anyway, to help you get a better understanding of this dude, these were the notes written across the picture before I cropped it (by the way, in case you couldn't tell by looking, it was done on lined notebook paper - probably in school after finishing my work way early):

-Above his name are the words "Boss's Bodyguard".
-There is an arrow pointing to his head saying "Comodice Height". Down at his left elbow is another arrow, saying "Normal boss type height", and a final one at his left knee saying "Normal character height".
-His moves list is as follows:
Harpoon: B, B, LP.
Acid Spit: F, F, HP
Tounge (sic) Weap: B, F, LP
Orb: D, F, HP
Slow Orb: D, B, HP
Invisible: U, D, HP
Running Elbow: B, F, LK
Jump Fatality: B, F, D, F, LK (close)
Motaro Morph Fatality: Hold LP, (D,D,F,D,) release LP (close)
Johnny Wanna-be Fatality: D,F,D,F,HP (close)
Lick Friendship: B, B, D, LP (far)
Giant Lizard Animality: D, F, F, BL (close)
Babality: D, F, D, D, HP
Brutality: BL, HK, LK, HP, HK, HP, LP, LK, LP
Pit Fatality: F, D, F, LP
Aggressorality (Jump): F, B, D, B, HK (close)

-A few combos are also listed:
Tounge (sic) Wrap, P, P, uppercut
Harpoon, P, P, uppercut
Slow Orb, Orb, uppercut
HK, LK, HP, HK, LP, HP, LK, HP
LK, HK, LP, LK, HP, LP, HK, LP
Tounge (sic)
wrap or harpoon, any hit

And now, a few notes that may need clarifying:
-The Johnny Wanna-be Fatality may be the classic Uppercut Decapitation that Johnny Cage has had in many of the games. I think that's what a strategy guide once referenced Ermac's Uppercut Decapitation Fatality as.
-The Aggressorality, since it's called "Jump", may have been just an upgraded version of his first Fatality.
In Mortal Kombat Trilogy, the Aggressor was a meter where once it was full, shadows would trail the character and make him or her faster.
-On the image there was actually green blood beneath his feet, probably in illustration of his Jump Fatality. I cropped out the blood because the Brutality's commands ran into it and made it look really funky.
-My butt hurts.