Miyavi pixel art
Miyavi pixel art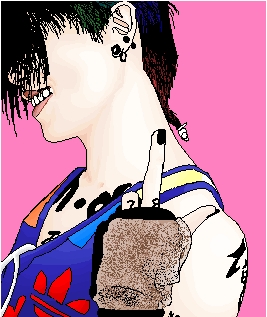 Description
Well, this is my first serious attempt at pixel art... worked on it from 8:30 this morning till now, 5:12. Stopping only for a cake break. (it was gross cake, too ;_;) Nuthin but MS Paint, my mouse, and a hot picture of Miyavi that I wanted to try drawning. Sounds tedious and borng I know, but it was really fun. It was a blast, like a party except without the awkwardness of realizing you don't actually like anyone who is there, and just sitting in the corner sipping punch. Oh, without the punch too.
Original picture -
http://i19.photobucket.com/albums/b155/MaterialPleasures/misc/miyavi.jpg
Just found it on Google ><
I didn't know wtf it was that he was holding and I kept messing up the hand anyway so I just didn't put it in.
I hate the hair. Hate hate hate. But I love the skin. love love love. Especially the jaw/cheek area. -poke poke- I didn't spend as long on the shirt as I did on the skin, but there's still like 15 shades of blue in there =_= The smallness of this picture irritates me. I hate small pictures. They always seem suspicious.
I want to do more pictures like this. Who should I draw next? : D
General Info
Comments
5
Media
MS Paint
Time Taken
Reference
yes