MYV
MYV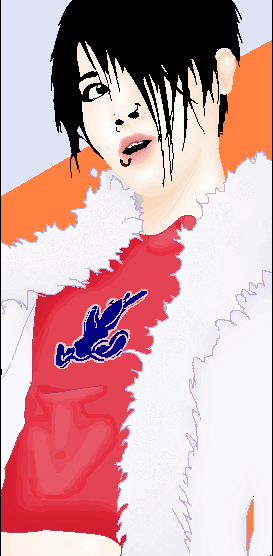 Description
Yaaaaaay Miyavi! So yarrr, I tried another MS paint drawing. I don't like this one as much as the other one, but... meh.
Jeff is over, so it took me a really long time to finish, he's very distracting. Like when he hits me over the head with pens. -_-
I wanna try drawing people from Dir En Grey, but I dun know if I'd be able to draw their hair >< they have very spectacular hair, plus I wouldn't be able to just flood fill it black ;_; But I will probably try at some point.
On a related note: if anyone has screencaps of Dir En Grey's PV for Child Prey, I would really, really like to borrow them. : D
Original picture:
http://images.quizilla.com/F/Fukaidclaw/1103050028_-popisdead.JPG
Source, Google. It's very hard to make things look floofy in paint -_-
General Info
Comments
3
Media
MS Paint
Time Taken
Reference
Yes