Gargoyle Fun 3
Gargoyle Fun 3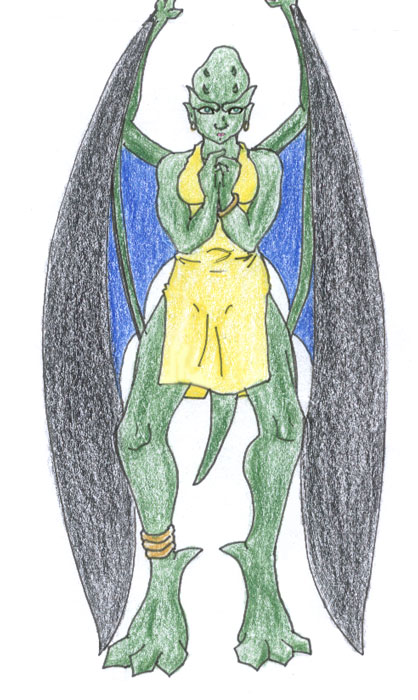 Description
This picture is small and it was done in, like, an hour. I know! And it doesn't totally suck for how quick(!) I did it. It's not great and is just barely good, but I like her, so here she is.

I'd been wanting to draw a more voluptuous gargoyle for a few years now, and instead of going to bed, I finally drew one. ...'Course, her arms are in the way, her hands are awful and her face is kind of hard to see, but I'll post more and better drawings of her soon...ish...ly.

I loved that one gargoyle on Avalon who had that awesome triceratops-head-thing going on, so I tried to design one of my own. ...I'm hoping I didn't just copy it- I went from memory and thought I made an original design. Oh well.

And yes, she is the sister of my under-arm-wing lady punker. And this gal doesn't have a name, either.

Now, I've seen lots of people say they don't name their gargoyles because gargoyles don't have names. But, if we'll recall, when Goliath, Elisa, Angela and Bronx visited Japan, South America and Europe, they all encountered clans with members that had names. Hell, the Avalon gargoyles all had names! It's more of an old-timey thing that they went un-named, I think. In more modern times, gargoyles (more often than not, if the three aforementioned places are any indication) have names.

...So I'll name this girl and her sister and the weird-looking mantis-based gargoyle I have to re-draw. Fun.
General Info
Comments
2
Media
Colored Pencil / Crayon
Time Taken
About an hour- wee!
Reference
None- but I also used ink pens!