14. Giant
14. Giant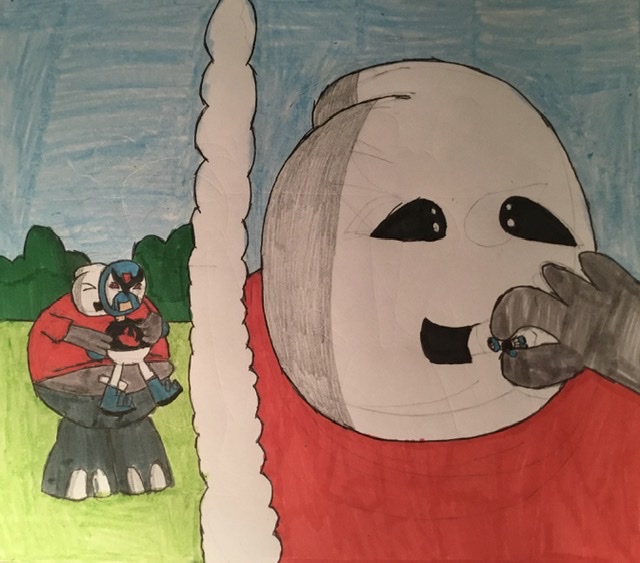 Description
This is part of the 100 Creatures Challenge. Link: 
https://www.deviantart.com/sootness/art/100-Creatures-Challenge-185733474
Right: What Mirror!Lil' Strong Bas and Lil' Strong Glad are imagining is happening.
Left: What's actually happening.
This one has a little story too, told through Mirror!Lil' Strong Bad's perspective. Here ya go!
---
It was pretty out and I wanted to play outside. I thought I would have fun, but I was wrong. I heard something very, very loud. It sounded like an angry lion growling! I was starting to get scared, and when I felt the ground shaking, I started to run! 
I got tired, so I tried hiding behind a tree. The ground kept shaking, and I was shaking too, because I was scared of whatever was making that growling noise! Suddenly, a shadow covered me, and I was then suddenly in a small, dark place that felt warm.
I felt something pinching my sides, and I could see again. I screamed in terror at what I saw. I'd been grabbed by a giant! He smiled, which scared me even more, and said, "Hi!"
I was surprised he said that and wasn't saying that he was going to eat me.
"Um, h-hi..." I said back, still scared to death of him.
Then I heard that loud growling noise again, and it sounded much closer.
"Oh, that's my tummy rumbling! I'm hungry..." the giant said to me. Then he looked at me for a few seconds, and said, "I wonder what little guys taste like!"
I screamed and begged him not to eat me, but he didn't listen to anything I said, and popped me in his mouth!
---
"Om nom nom!" Strong Glad said as he held me in his arms. 
He then made a fake gulping sound and started laughing. I was laughing too. That was a fun game of chase!
No, my brother's not a giant! He's a big boy, but he's not a giant! And he'd never eat me! He loves me too much to do such a thing!