Happy (late) Birthday!
Happy (late) Birthday!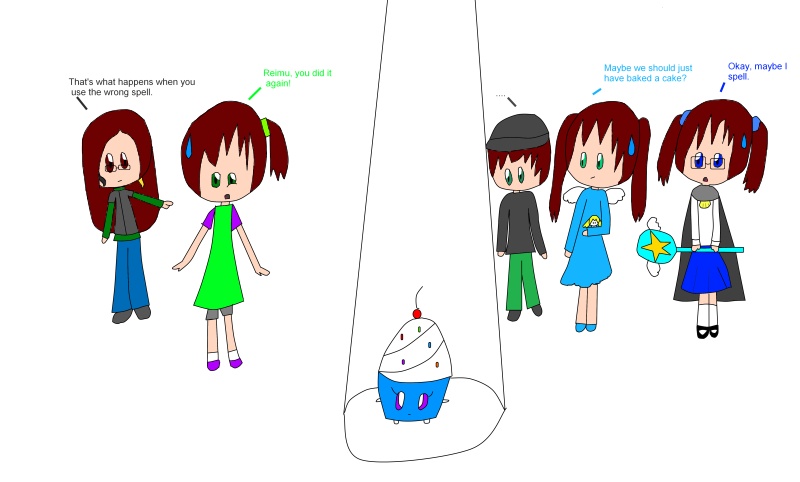 Description
Happy Birthday to the following people: Rachael(CreamandPoppuFan166) and Ellie!(Anime_Ellie) It is also my birthday, but it would be a little weird to say Happy Birthday to myself, right? Well, if you're confused about whats going on in this pic, I'll explain.
I was thinking of how to get a cake for Rachael and my sister Ellie. Then, I came up with a brilliant(not) plan to get one: use one of the spells that I didn't now how to pronounce yet. So, I call my Ellie and Rachael( happened to be visiting), then called Rae(RaeAshleyRodri) and Jon(waluigiguy22) on cell. Rae warned me not to use the spell, and that I needed to wait and just bake one. Did I listen? I did, but I accidentally said the words when I tried pronouncing the words. And I hadn't erased the chalk on the floor yet. So, the cupcake grew arms and legs, and a face. Rae arrived to see it happen, and Jon came in 10 minutes later. Jon didn't know what to say because he was confused of why we were talking about
a cupcake that had a spotlight on it.

So basically it. What do you think the cupcake might of done to us later? What do you think it's intentions were?
That is going to be a poll. Also, I drew this pic, then scanned it onto Paint.Net. That's probably what I'll do with other pics too.

And sorry it's late! And the mistake of what I was saying. I'm really supposed to be saying "Maybe I better practice that spell."
General Info
Comments
3
Media
Digital drawing or painting
Time Taken
2 days...
Reference