Er... Christmas Spirit?
Er... Christmas Spirit?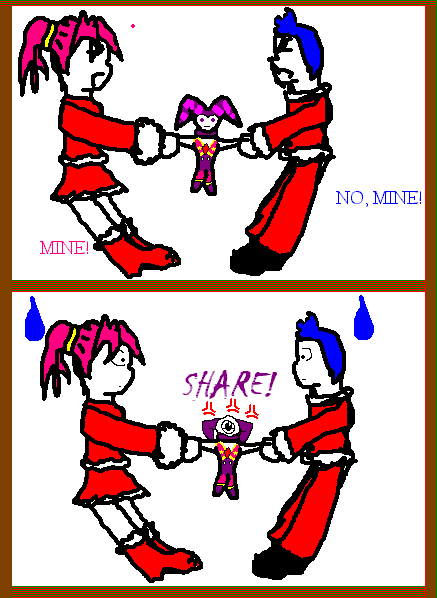 Description
This was just fun. I was reading The NightDragons story, its an adaptation for X-mas NiGHTS and Claris and Elliot keep fighting over who gets to merge with NiGHTS, so i decided to draw this XD Fuun...<br />
I forgot to erase that little pink dot above Claris though... Oh well. Should I have made NiGHTS X-mas colors instead of normal? Tell me! xD Done in Paint(What else?) because i don't have anything good like.. i dunno, Photoshop is it called? Anyway...<br />
<br />
I love how i got their faces in the second panel, Claris especially XD And their white because Paint doesn't have skin color and i was too lazy to try and costomize make it n.n;;; Well... Oh, Elliots hair annoyed me. Dumb Pineapple... Thats all i have to say. Oh, and also, I'll be putting up a drawn pic soon XD Yaaay... *Sets up a tray of toaster strudels for people who comment*<br />
<br />
One more thing. This is NightDragons fic.<br />
<br />
http://www.fanfiction.net/s/1626096/1/<br
/>
<br />
GO READ IT!!!
General Info
Comments
3
Media
Unspecified
Time Taken
Reference