Vikki's Present
Vikki's Present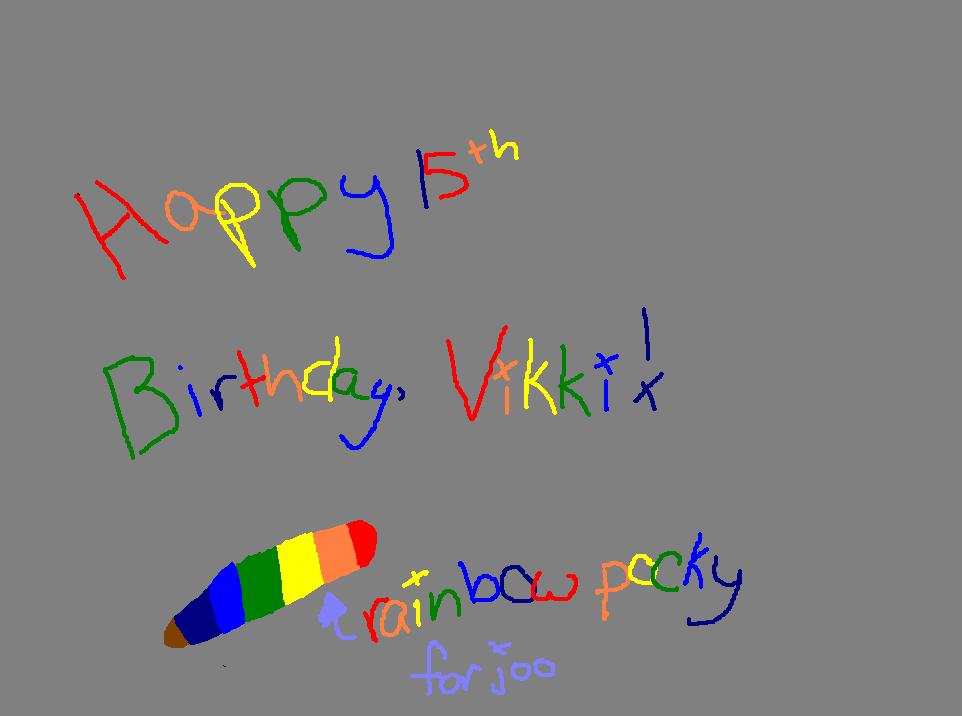 Description
Jeez..... It looks bad, but its rainbowy. Yay rainbows. I figured that I had to make something for you, and fast. So I just wrote Happy 15th Birthday, Vikki! And I gave you some rainbow pocky. Neh it's my first time using my tablet to draw so yea.... I was gonna draw you a pic on paint, but i was tired... Oh and you'll eventually get a (NEARLY(cause I cant draw certain things on my comp, cause im bad w/ my mouse and tablet)) rule-free request from me, I have to set it up on my page w/ the rules and stuff. Happy belated birthday!! The gray background is the rainy cloud, and idk what the lavender is, I just put it in cuz it was pretteh.

Handwriting/Art, and rainbow pocky (C) Moii
Pocky (C) The geniuses who made up pocky, duh!
General Info
| | | | |
| --- | --- | --- | --- |
| Ratings | | Comments | 2 |
| Category | Miscellaneous » Holiday Art » Birthdays | Media | MS Paint |
| Date Submitted | | Time Taken | Like 2 mins |
| Views | 1133 | Reference | My smarticleness |
| Favorites... | 1 | Keywords | |
| Vote Score | 0 | License | Berne Convention |