Ed luuuurves April!
Ed luuuurves April!
Ed luuuurves April!
by
Uzuki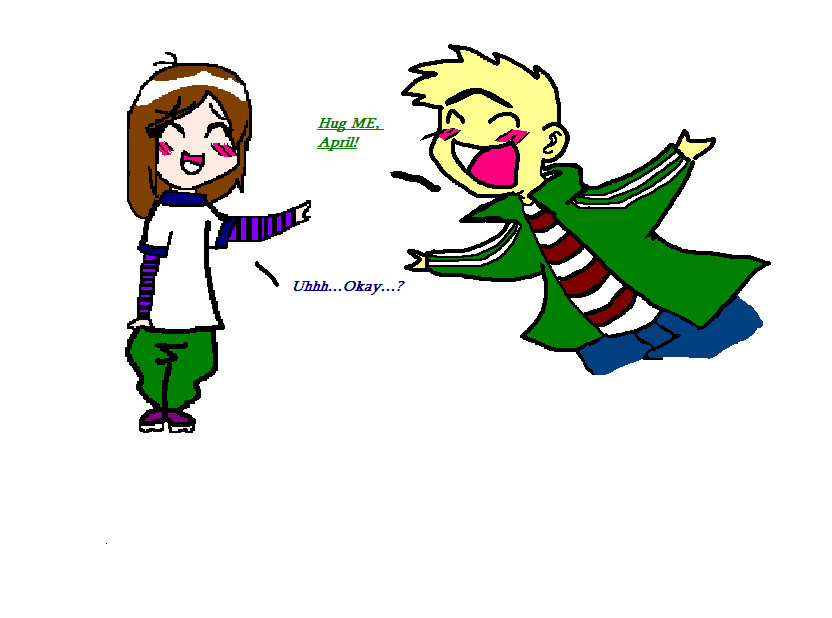 Description
o.o I dunno, but I think someone other than Double D has a crush oin Aprilll...>.> Oh! She's the girl. XDDD

Yes, there's a short story to go with it, DEAL. o.o;;

April woke up and checked her alarm clock. 'Ok Eddy wanted me to be up by..?'

"AW CRAP, IT'S PAST 7:00 AM!" she made a bolt for the door then stopped. "Oh, right! Double D likes it for us to wear shoess..." she spun around to grab her tiny purple shoes and pull them over her feet. Then she made another grab for the door and out into the cul-de-sac.

She found that Ed and Double D were waiting for her near the middle of the cul-de-sac. But, wait!

"Where's Ed?" April asked, looking around to make sure he wasn't going to pop out of the ground like a gopher or fall from a street lamp.

"We dunno, we ain't seen Lumpy all morning!" Eddy replied.

"....Maybe's he's in his room?" April asked.

"No, we looked already. We can't find our dear Ed anywhere!" Double D said.

And then, it happened.

As if from no where, Ed sprung forwards from behind April. She blinked and turned around.

"Hug ME, April!" he yelled happily, opening his arms for a great big bear hug.

"Uhhh...okay?"

o.o This is why I shouldn't be allowed to eat my BELOVED chocolate...o.o Oh, and April is an OC from a E,E n E fanfic I'm writing.
General Info
Comments
3
Media
MS Paint
Time Taken
Reference
MS Paint