Butters
Butters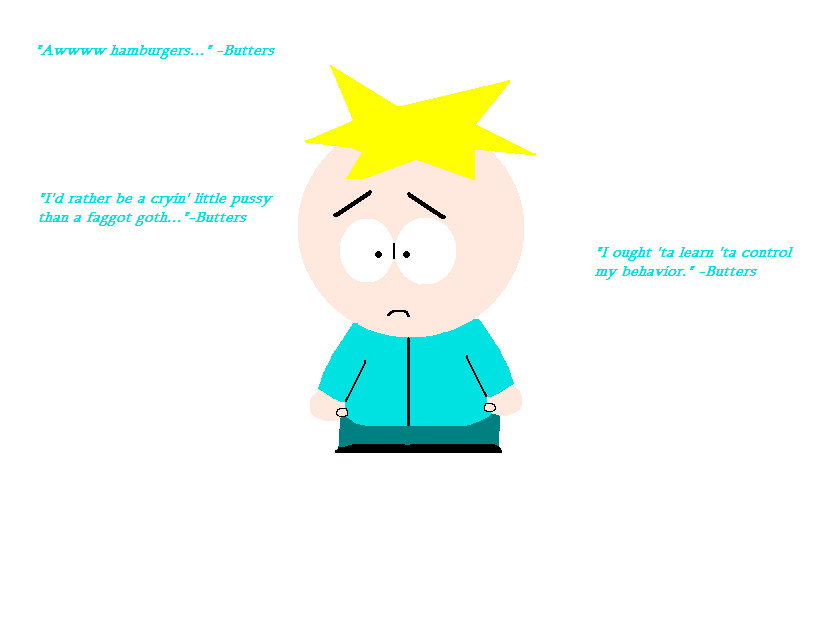 Description
This is just an adorable picture of Butters I drew on crappy MS paint. He's sooooo cute! *hugs Butters*

I dunno why, but I drew him somewhat scared looking. Pehaps he was GROUNDED!? NO! ;-;

Anyways, I'm having a hard time deciding wether or not April should end up with Kyle, the Jew she's had a crush on ever since she came to South Park, or Butters the 'Cutest little guy ever', a she called him. Who do you guys think would love her more? o.o;

Seems like Butters would make a good boyfriend, but Kyle would too...

>.< GAH! IT'S TOO MUCH PRESSURE MAN!

O.O Perhaps she should get with Tweek?

I can see it now...

"Gah, it's too much pressure, man! I-I can't do it!"

Kenny in his usual muffled tone sighed. "C'mon Tweek, April isn't that hard to talk to. I should know."

Stan nodded, "Yeah dude, just give her the flowers and tell her how you feel."

"...I cannn't!"

"DAMNIT TWEEK YOU'RE GOING TO PLEASE MY COUSIN WETHER YOU HAVE THE COURAGE OR NOT!" Kenny yelled. Tweek flinched and sighed, taking a deep breath. Slowly he made his way over to April, who was sitting in the hallway, reading a book. She looked up with a smile.

"Oh, hey Tweek!"

"...I-I like you, there!" Tweek tossed her the flowers and ran off quickly. She blushed.

"Aww, Tweek..."

I'm babbling now. o.o;;

Now onto the Butters scenario!

"I-I dunno about this, fellas. What If my parents don't like her?" Butters asked in a nervous tone, holding the box of chocolates in his hands.

"Dude, you'll do fine. My mom likes her, so I think she's safe from your parents." Kyle said.

"Yeah, and Kyle's mom is a-"

"DON'T SAY IT CARTMAN!"

"Yeah, now go on over there and tell her!" urged Stan.

"If you guys say so." Butters nodded, taking a deep breathe. Slowly he made his way to April who was sitting on the playground with Wendy and Bebe. Butters gulped, handing April the chocolates.

"R-roses are red, Violets are blue...All other girls are whores, and I like you." Butters recited, reading from the back of his hand, "...Eric told me to say that..."

Wendy and Bebe giggled.

April blinked. "Awww, thanks Butters!" she stood up, hugging him tightly.

"...Aw, hamburgers..."

And now, the Kyle scenario. ..>.> Seems like Butters is teh best...

Kyle tightened the tie around his neck. "How do I look?" he asked Stan, stepping down from the stool he was standing on to see himself in the mirror.

"Great, great." Stan replied. "You'll do fine, Kyle. Kenny says April likes you."

"...But it's Kenny..."

"...You might be right, dude."

April suddenly burst into Kyle's room. "Kyle, Stan..." she was laughing rather hard, "You aren't gonna believe what Kenny just did!"

She blinked, seeing Kyle in the suit. "...Dude, what's up with the suit?"

"Uhhhh....Uhhhhh..." Kyle rushed over to her, grabbing her. He bent down to kiss her quickly.

Stan raised his arms.

"SCORE, KYLE, SCORE!"
General Info
Comments
2
Media
MS Paint
Time Taken
Reference
MS Paint