200 Pictures!
200 Pictures!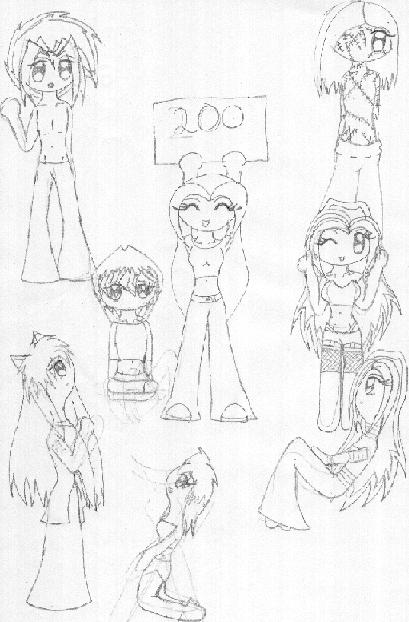 Description
Okay, I drew this because this is the 200th pic I've uploaded! Yea! *dances around*<br />
Okay I'm in the middle with the sign. Below me is Zakaru, my Magic Knight RayEarth OC.<br />
On the right is Akila/Yami Yula, one of my Yu-Gi-Oh OCs, and above her is Yula another Yu-Gi-Oh OC. Above Yula is Killer, my random Ragdoll bishie.<br />
On the other side of the paper, acrodd from Killer we have Kyari, another Yu-Gi-Oh OC. Below him and next to me is Set, yet again another Yu-Gi-Oh OC.<br />
And last but not least is Uin-Hasay in the left hand corner, my Inu-Yasha OC.<br />
I was going to put me Chobits OCs in here but I was running out of room.<br />
Comments?
General Info
Comments
2
Media
Unspecified
Time Taken
Reference