Remember February 2, 1925
Remember February 2, 1925
Remember February 2, 1925
by
Vzmmo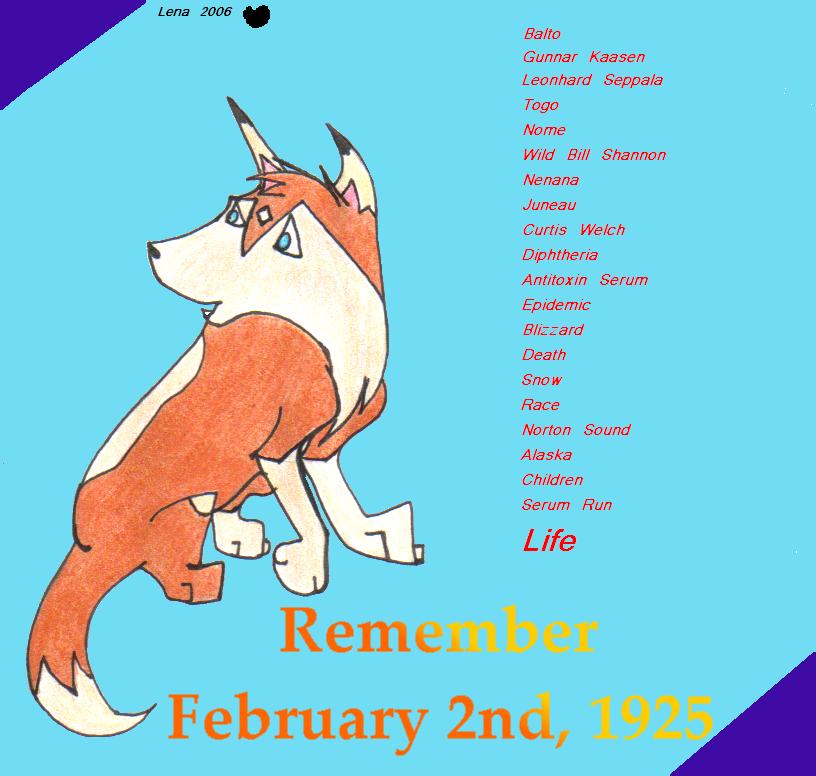 Description
In case you don't know, today, February 2nd, 2006, is the 81st anniversary of the real Balto's dash to Nome! Did ya know? Huh? Huh? XD <br />
I'm a 1925 Serum Run buff--I absolutely LOVE learning about it. If you wanna know more about the real Balto and such, just do a search on the Serum Run and you'll find it. It's an extremely awesome story!<br />
So I did this. The dog is my own character--not my Balto character, but my own character for myself--named Kenai. I wanted to do a memorial pic for the day that Nome was saved, so I put some Serum Run keywords in the pic too. <br />
I hope ya enjoy it, and remember February 2!
General Info
| | | | |
| --- | --- | --- | --- |
| Ratings | | Comments | 2 |
| Category | Movies » Balto | Media | Unspecified |
| Date Submitted | | Time Taken | |
| Views | 1276 | Reference | |
| Favorites... | 0 | Keywords | |
| Vote Score | 0 | License | Berne Convention |