Jim Hawkins fangirl is back Baby!
Jim Hawkins fangirl is back Baby!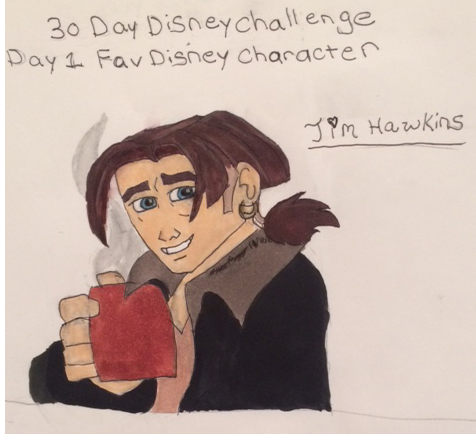 Description
Hey guys! 

As mentioned in my update, I've been very busy and stressed with work. My stomach was feeling upset last night, so I called out of work last minute. (It was a cooking mishap; But I like to have a day off too ya know)? I am mentally and physically stressed from work and the place I am at is not healthy for my own benefit. I can't wait to take my first aid class soon, some things from school finally, and finish to get the hell out of there. Not only that, but my co workers are abusive psychotic and manipulative. Talking crap about the other behind their backs, creating drama and using wrong termed words when were working even! And that's not the place I like to be working in professionally. (which is unprofessional within the field I'm woking in too) So I can't wait to leave that rotten place! I know I am a good hearted person at heart, and sometimes I know what's right and wrong. I'm also probably sick from the stress and pressure I've been placed under working where I've been working at. 

But anyway I've rambled too much about that, and probably shouldn't have. Anyway about this picture; I used to be crazy obsessed with this Disney character!!! But my obsession died until I saw this movie again with a friend one night. (I owe the DVD too)! *YAY!* anyway, despite the maany art mistakes I made, and a few wrong color choices here and there, I am pretty happy/satisfied with how he came out!! (even proportionally wise and finger wise)! :D :D And I stink with anatomy. XD (eyes and hands are the hardest for me to draw including feet sometimes) but I'm really happy with how Jim turned out. Ignore the color swatches if you see them on the paper. 

The medias I used for this picture were some copics, My fav markers I got at NYCC (New York Comic con)! (The marker brand is called marvy uchida and the name of the markers are called La Pluma. I used one Winsor and Newton Marker for Jim's under shirt. And one skinned toned colored marker. But most of it was done with the La Pluma markers. 

I don't know there are something about these markers that caught my eye when I was looking around. They blend really well and the colorless blender works wonderfully!! You just need to place some paper underneath the one you are working with, bec it bleeds through. The only thing I don' like about these markers are they only have a fine brush tip and that's it. No chiseled tip or double sided. Just one fine marker brush tip (which is fine but I prefer having two ends of the markers at least

the la plume (The e looks like an a sorry) markers come in 24 colors if you are getting a set. But I honestly love these markers better then the Copic markers (Where everyone raves about them) but truthfully speaking I love the La plume markers better. They just caught my attention somehow and I'm so so happy I got them. (I wish I got three sets; even all of them) but I would've been going over 100$ at the con XD XD but they're so worth it. <3 <3 I have a grey set and a blending set. But there are many more. (not as many as copics, but they're cheaper to buy single I think and so fun and easy to use. But this is my preference. I just feel like these markers were MADE specifically for me to use. They're simple and easy too unlike copics. The brush tip is more flexible too. But sometimes even when I'm coloring with them, I do tend to go out of the lines bec the brush tip is too big (Even if I made a big pic)  

I wish I had all the colors for free. XD ( made a fair review right)? I don't mean to ramble on about them but I just super duper love these markers. I've been searching for YEARS for markers I can use and I was almost about to give up finding the ones I love, but then I come across the La Plume markers. So so wonderful!! <3 Totally wanna get more in the future. But you can only buy them on their website. :( 

Haha I realized I rambled more about the markers I used rather then the picture itself. SORRY! 

I also trimmed the image bec i'm getting so sick of finding my pictures rotating. I think I'm making them too big thats why! 
General Info
| | | | |
| --- | --- | --- | --- |
| Ratings | | Comments | 1 |
| Category | Movies » - Disney Movies » Treasure Planet | Media | Ink or markers |
| Date Submitted | | Time Taken | A few days (Don't remember the exact time) |
| Views | 255 | Reference | Screen shot from Disney's Treasure Planet |
| Favorites... | 2 | Keywords | |
| Vote Score | 1 | License | Berne Convention |