Daisuke's Possum
Daisuke's Possum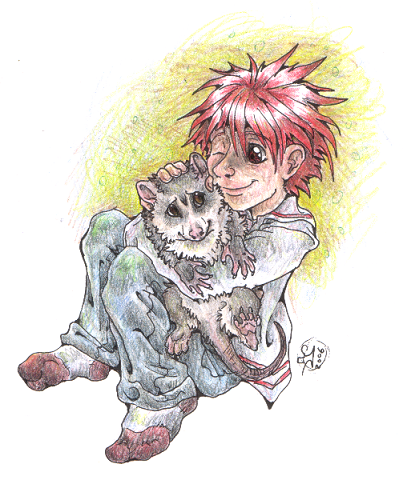 Description
Well, to make a long story short, I'll have to say that two friends of mine made up a 'pairing' between Daisuke and a Virginia Opossum and wanted me to illustrate it for one of their birthdays.  I did a quick sketch/concept, loved it, and finished it all in about two hours. o.O  I really hope Daisuke looks alright, as I don't draw DNAngel characters very often.  This was also my first time seriously attempting to draw an opossum.  Hopefully it's recognizable for what it is. ;D
 
Hah, Daisuke has grass-stained jeans.
 
(The original pairing that they made up was a 'for-serious!!' pairing.  And I didn't like that very much. o.O  So I made it more of a 'Aww-the-possum's-so-cute!!' pairing.
General Info
Comments
1
Media
Colored Pencil / Crayon
Time Taken
2 hours.
Reference
Various photos of virginia opossums.