Lori'vaen
Lori'vaen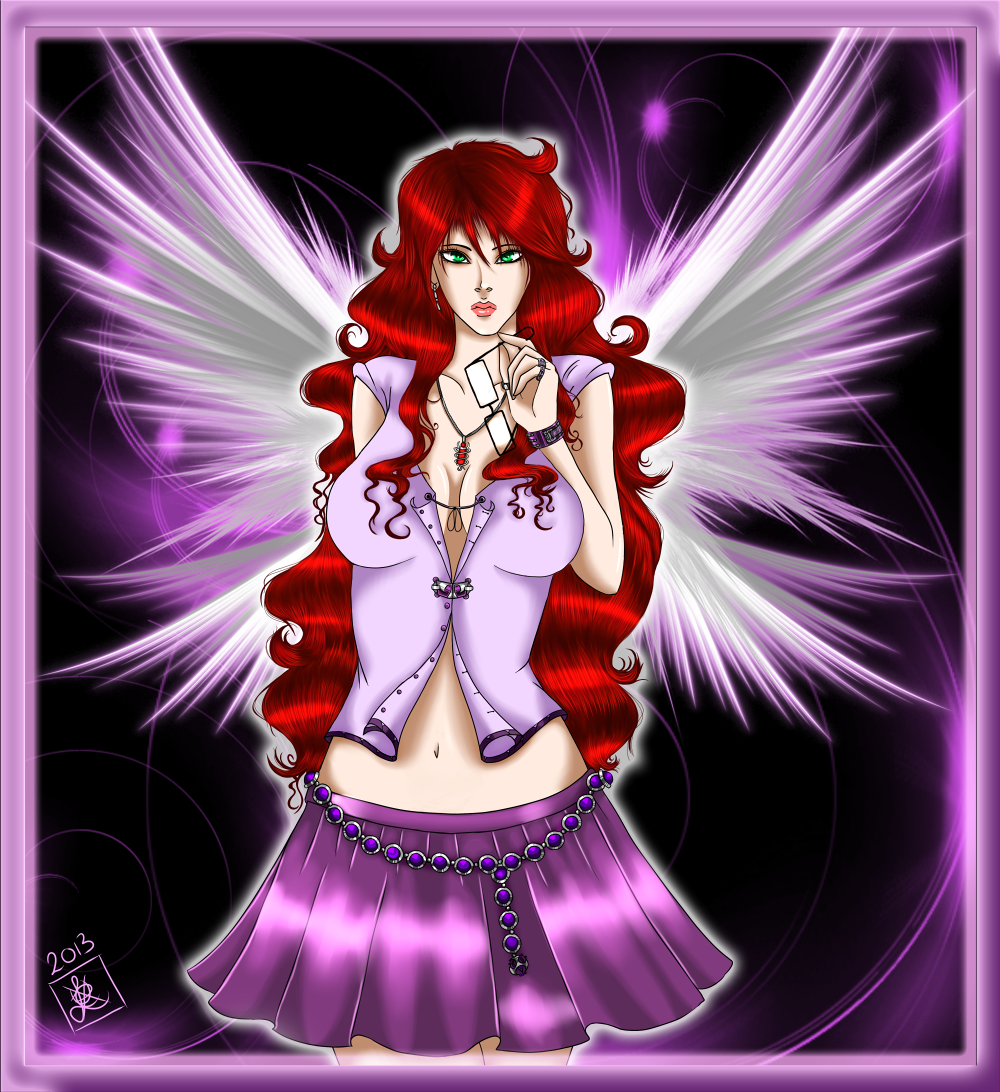 Description
NAME: Lori'vaen Yun Hyune
NICKNAMES: Lori, Lalu
AGE: Ageless, looks 18
GENDER: female
HAIR: Natrually Red=Violet as Lalu.
RACE: Half human half angel
EYES: Green.
HEIGHT: 5'2
MARITAL STATUS: 
Dating
= Xelrek (Future she is married to him)
OCCUPATION: Questionable but seems like a collage student. Is really Lalu rather famous singer and idol.
History 
Lori doesn't remember most of her past but she remembers having a older brother and little sister. On nights when lightning crashed and thunder explodes in the skies, she can see images of death and being covered in blood. Angels and demons surrounding her dead or mutilated. Then seeing two shadowed figures picking her up and leaving her, with her sister, to die in the wastelands of the mortals' worlds. During the time when her parents and family abandoned them because of their uniqueness, Lori, Trevor and Aariana did what they could to try and fend for themselves but ultimately was unable to even find them somewhere to live. While living in a small town in a 
hotel
 hiding themselves away a mob of cultists broke into the hotel room knocking Trevor out and taking his younger sisters. 
Lori woke chained to the walls of a church being hailed at the means to an end of the sinners. They took a sacrificial dagger dragging it along her skin draining some of her unique blood that had healing potential which they continued to do to heal themselves after they started a small war within the city. Finally when Trevor found Lori she was sick and weak still chained within the basement of the church...But Aariana was no where to be found. 
It was one evening when Lori was begging outside a shopping center singing to try and get a some money to live and eat, she caught the attention of a scout for a music company that contracted singers. Promises of a home warmth food and everything she could wish for was offered. The only thing Lori could think of was the means for her and her older brother to finally live and to find Aariana, agreeing to be a singer for them Lalu was born. It took work, effort, and the destruction and rebuilding of her self esteem, but Lori was determined to 
continue
 onwards. 
Lalu became a multi-award winning singer hugely popular for her voice and works and fashion sense she is also a actress being cast in different roles along side some of the most popular and loved actors and actresses in this age. Her songs are heard all over and girls wish to be her while guys want to be with her, Lalu's records continue to rocket sky high. Deep down inside...Lori feels as if shes been swallowed up by Lalu often adopting her original look of red hair and glasses simple 
close
= to go out and try to have some alone time...
As time progresses Lori started school where she met Xelrek Mieto who she became close to, unfortunately Xelrek went missing only to reappear years later once Lori was much older. As time passed Xelrek and Lori became closer their feelings for each other growing greatly.
General Info
Comments
0
Media
Digital drawing or painting
Time Taken
1 day
Reference