Smoke Break (it's Harin! XD)
Smoke Break (it's Harin! XD)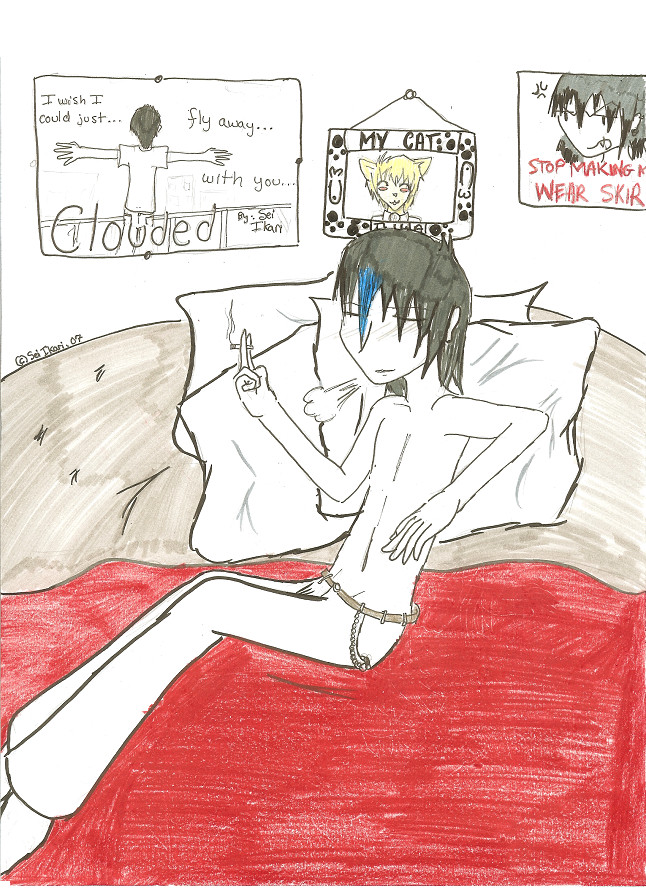 Description
Sei's Jukebox: "Gessekai," Buck-Tick
Look, it's Harin, smexing it up for all you lovely people! For those of you who don't know, Harin is an old character of mine who was, to put it bluntly, a whore. He had a story, which I abandoned, but I loved his character so much that I kept him around XD
Anyway, just ignore the crappy pose and LOOK AT THE POSTERS ON THE WALL! And since I'm bored, I'll explain them all:
Left: Promo poster for my manga. I love this image. This is not only a later scene in Clouded, but without the text about flying away, this is what the cover looks like.
Center: LOOK IT'S TUNA!! Tuna belongs entirely to NekoHellAngel. Harin's taken a liking to him and neither of us know why he hasn't jumped him yet O_o
Right: Come on, you know I had to put Kyei in here somewhere. The poster says, in its entirety, "
STOP MAKING ME WEAR SKIRTS
." Which I will never do XD BUHAHAHAHAHAHAHAHAHAHA!!!!
Oh, and of course Harin has a circular bed with red sheets. What did you expect? XD
Harin - Mine
Tuna - Neko's
General Info
Comments
1
Media
Other drawing
Time Taken
Reference