My First Naruto Drawing
My First Naruto Drawing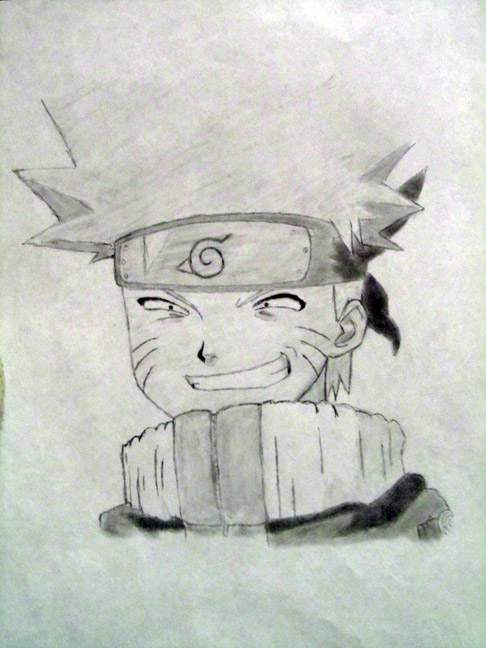 Description
Ok.... This is my first drawing that I have done of Naruto Uzumaki. My very first Naruto character drawing was Gaara.
Yah..... the negative space is all grey looking. I cant really help that.....unless i erase it all on Photoshop. I had problems with
values in shading too back then too. I am critical of my own work lol.

Oh.....You should of seen the look on his face(Naruto's face).....wait... U already are right now. Haha. He sure seems
to have an evil idea in that noggin of his. But what is he thinking about??

Sorry if u might seee a few odd colors in there(hard to notice for some). Its the camera that did it. Maybe I should
put it to grey scale on Photoshop then.


I........drew this at my apartment in like Feburary of 2010. I drew like 7 pictures in like 5 months of when I was at college.
I first started watching Naruto in Janurary becuase I first saw it in my friend Kenny's apartment that was upstairs.
His roommates had it playing on the dvd player. I was like "Gaspe... ANIME!" :D I sat down and watched it.
Then I asked the real owner of those box sets to see if I could borrow them....And I did. She had like 15 box sets of the first series.
She was giving her anime stuff away and I wanted the box sets so bad. BUT... She gave them to my other friend. I was soooooo mad and I knew that I deserved them more than my other friend........
BECAUSE..... I would watch them all the time and I LOVE NARUTO SO MUCH. I doubt that my other friend would watch them hardly. I would totally steal them from her. lol Or not because, she would get her so called Mafia gang to find me eventually.





ANYWAYS.....

PLEASE leave a review of what you think of my drawing OR comment of what you think that Naruto is thinking about the drawing there.

Every comment you leave, he will get one step closer to doing that evil idea.