RS 53
RS 53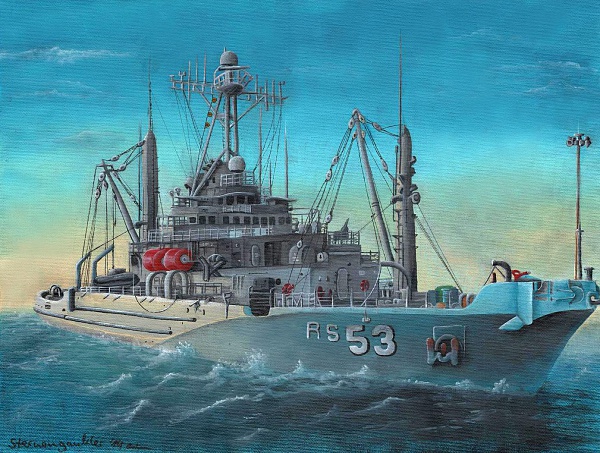 Description
I DID IT! Never thought i would ever do something like THAT!  Actually something so totally different from animals and fantasy! O_o and its the first pic of a lil collection of mechanical things.
(yep, im actually planning to do a train, a plain, a ship and a car... just need more time to get an idea WHICH exactly!)
<b>Its the US Navy rescue and salvage ship 'USS Grapple ARS-53'</b>
My first mechanical thing ever AND my first pic JUST done with acrylic and im quite proud of it. It was bloody arduously!!
Of course i used many reference pics. for the ship, the water, the sky. just the clouds are pretty invisible on this photo :( sorry... i know its NOT perfect done, but its MUCH more than i thought i can ever do~
<b>cuz no one would ever pay so much (for all the work and hours i spent for this -> 3 months) i made it as a present for someone who really deserved it. he was so touched about it, i had to give him a tissue x'D Damn he was so slaphappy! which makes me happy too ;) </b>
DIN A3, acrylic on cotton pad.
here is the original ship:
http://fc08.deviantart.net/fs70/f/2014/032/6/8/ref_by_sternen_gaukler-d74nq1b.jpg
(sry, cant find it in google anymore.)
<b>PLZ PLZ PLZ be so nice and share it, write me a lil critique/comment, fave it, what ever. i need to know if its as good as i think. thk u!</b>
PS:
The step by steps!
http://sternen-gaukler.deviantart.com/gallery/47981206
General Info
| | | | |
| --- | --- | --- | --- |
| Ratings | | Comments | 3 |
| Category | Miscellaneous » Science & Technology » Military Tech | Media | Acrylics |
| Date Submitted | | Time Taken | 3 Months |
| Views | 660 | Reference | |
| Favorites... | 2 | Keywords | ARS, USS, ship, warship, rescue, salvage, acrylic, portrait, landscape, scenery, pain |
| Vote Score | 2 | License | Berne Convention |